Belles Fall to Tenth-Ranked Flying Dutch
Rachel Bonek hit .357 with six kills.
Clare McMillan had 13 assists and 15 digs.
Katie Hecklinski (15 digs), McKenzie Todd (14 digs), and Alexis Grady (11 digs) each registered double-digit digs.
HOLLAND, Mich. - The Saint Mary's volleyball team lost a 3-0, (25-23, 25-16, 25-21) match at No. 10 Hope on Saturday.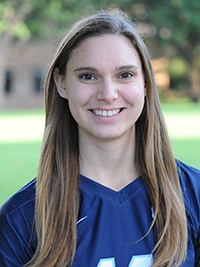 Rachel Bonek hit .357 with six kills.In the opening set, the Belles battled back from a 17-10 deficit to edge within a point at 17-16. McKenzie Todd served up a pair of aces, Leah Buck and Meaghan Gibbons each registered a kill, and Buck and Gibbons teamed up for a block during the run to put Saint Mary's back in contention in the set. The Flying Dutch were able to hold the lead until the Belles got a kill by Rachel Bonek followed by a miscue by Hope made it 22-21 in favor of Saint Mary's. Three straight points by Hope put the Flying Dutch up set point at 24-22, but Bonek kept the Belles alive with another kill to make it 24-23. An attack error by Saint Mary's, however, gave Hope the opener by the 25-23 final.
Saint Mary's came out and claimed an early 6-3 lead in the second set before the Flying Dutch rattled off six consecutive points for a 9-6 lead. The Belles came back with three points of their own to knot the score at 9-9. With the score tied yet again at 11-11, Hope went on what proved to be a decisive run in the set by claiming nine straight points for a 20-11 lead. The Belles were unable to get the deficit to fewer than seven points down the stretch as Hope took the two sets to none lead with the 25-16 win.
Neither team held more than a three point lead in the third set until the final points of the match. Determined to keep the match alive, the Belles continued to play point-for-point with Hope. With the score tied 15-15, Katie Hecklinski and Bonek each put down kills to put Saint Mary's ahead 17-15. Four points in a row by Hope, however, gave the Flying Dutch a lead they would not relinquish despite the Belles' best efforts. A kill by Bonek pulled the Belles within a point at 19-18, and a service error two points later made it 20-19. Hope took advantage of a pair of Saint Mary's hitting errors late and closed out the match with a kill for the 25-21 win.
Rachel Bonek posted a .357 attack percentage with six kills, and Meaghan Gibbons also tallied six kills. Clare McMillan picked up a double-double with 13 assists and 15 digs. Katie Hecklinski matched her teammate with 15 digs to share match-high honors. McKenzie Todd added 14 digs, and Alexis Grady registered 11 digs and nine assists.
The Belles (13-11, 6-7 MIAA) return home to host Olivet on Tuesday, October 27 for the team's annual Domestic Violence Awareness Match beginning at 7:00 p.m.