Belles Fly Past Hornets
Katie Hecklinski led all players with 12 kills and added eight digs.
Meaghan Gibbons and Colleen Kilgallon each had eight kills and hit .500 or better.
The Belles posted a .390 attack percentage on the night.
NOTRE DAME, Ind. - The Saint Mary's volleyball team won a decisive three-set match over Kalamazoo by 25-16, 25-15, 25-8 scores on Tuesday evening. The Belles hit a blistering .390 on the evening - the best hitting percentage by a Saint Mary's squad since the Belles hit a .415 on October 21, 2008 against Western New England College.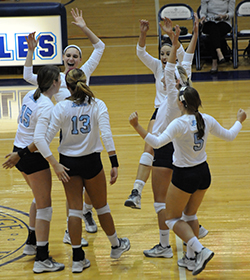 The Belles celebrate a point in the second
set against Kalamazoo.The Belles took control midway through the first set. Up 13-12, Saint Mary's won eight of the next nine points - including a seven-point run - to pull ahead 21-13. The Belles took little additional time to claim the opening set with a 25-16 decision. Saint Mary's put up a .364 attack percentage in that first set, which was just an indication of what was yet to come for the Belles.
Holding on to a 12-10 lead in the second set, the Belles again posted a momentum-shifting spurt by taking an 18-13 lead. A few points later, Saint Mary's went on a six-point run to go up 24-14 en route to the 15-15 second set win.
The third set was all Belles from start to finish. A 5-0 lead quickly ballooned into a 10-1 advantage for Saint Mary's. The Belles got the ball back to serve at 15-5 after a service error, and Angela Bukur dialed up back-to-back aces as the lead eventually grew to 20-5. Morgan Klein added her first career ace to cap off the 25-8 win in the third set to clinch the victory. As a team, the Belles posted a scorching .524 attack percentage in the set with 11 kills on 21 attempts and no errors.
Katie Hecklinski led all players with 12 kills and had a .458 hitting percentage while adding eight digs. Meaghan Gibbons paced both sides with 11 digs and registered a .533 attack percentage with eight kills on 15 attempts with no errors. Colleen Kilgallon also had eight kills while posting a .500 attack percentage for the Belles. Clare McMillan and Alexis Grady each tallied 16 assists on the night.
The Belles are back home again on Friday when they host No. 14 ranked Hope at 7:00 p.m.