Belles Sweep Competition on Day One at Elmhurst
North Park Box Score - Lawrence Box Score
Rachel Bonek had a career-high 10 kills against North Park
Meaghan Gibbons added a career-high 15 kills against Lawrence
Katie Hecklinski posted her first double-double of the year in the win against Lawrence
ELMHURST, Ill. - The Saint Mary's volleyball team earned a pair of 3-0 victories on day one of the Elmhurst Invitational on Friday night. The Belles defeated North Park by 25-14, 25-22, 25-21 scores before handing Lawrence a 25-17, 25-16, 25-12 defeat.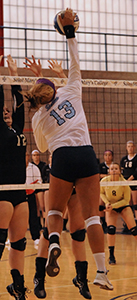 Meaghan Gibbons led
the team in kills on
Friday.Against North Park, the Belles were able to establish an early lead in both the first and second sets against the Vikings. In the third set, Saint Mary's came back from a 14-11 deficit with a surge to pull ahead 17-16. North Park returned the favor and claimed a 19-17 lead. That advantage was short-lived as a six-point run by the Belles put Saint Mary's up for good and clinched the three-set win.
Rachel Bonek put down a new career-best 10 kills while Meaghan Gibbons also added 10 kills for the Belles. Katie Hecklinski led all players with 11 digs to go along with six kills. Alexis Grady tallied 21 assists, and Clare McMillan chipped in 14 assists of her own. Colleen Kilgallon had a .714 attack percentage with five kills and no errors on just seven attempts.
In the match against Lawrence, the Belles were dominant. Saint Mary's never trailed in the first two sets of play and only trailed in the early points of the third set before overtaking the Vikings.
Gibbons registered a new career-high with 15 kills. Hecklinski picked up the double-double with 14 kills and 16 digs. McMillan added 21 assists while Grady posted 17 assists in the victory.
The Belles (3-0) take on host and nationally-ranked Elmhurst tomorrow at 10:00 a.m. CDT before facing off against Wheaton at 2:00 p.m. CDT.