Belles Sweep Comets in Conference Contest
Katie Hecklinski had a double-double with 12 kills and 10 digs.
Meaghan Gibbons and McKenzie Todd each had double-digit digs.
Alexis Grady and Clare McMillan each contributed double-digit assists.
OLIVET, Mich. - The Saint Mary's volleyball team won a 3-0, (25-23, 25-10, 25-16) conference match at Olivet on Saturday afternoon.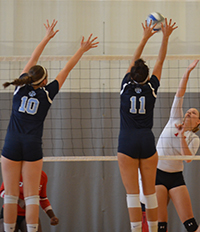 Trailing 22-20 in the opening set, Katie Hecklinski, Colleen Kilgallon, and Alexis Grady pounded down three consecutive kills to put Saint Mary's up 23-22. The Comets called a timeout and won the ensuing point, but Meaghan Gibbons registered a kill before Grady and Leah Buck closed out the opening set win with a block for the Belles.
The second set saw Saint Mary's use two huge runs early in the set to break open what was a 5-5 match and build a 19-7 lead. The Belles never looked back en route to the 25-10 win while also taking over all of the momentum in the match.
That momentum shift carried over into the third set as the Belles went ahead 8-3 early. Olivet tried to keep close as the Comets edged within two points at 15-13, but Saint Mary's responded with four consecutive points to push their advantage to 19-13. A few points later, the Belles rattled off a five-point run to go ahead 24-15 before eventually taking the 25-16 win.
Katie Hecklinski led all players with 12 kills and added 10 digs for the double-double. Colleen Kilgallon posted a .538 attack percentage with seven kills and no errors on just 13 attempts. Meaghan Gibbons had match-highs of 14 digs and three service aces. McKenzie Todd added 10 digs in the win. Alexis Grady had 21 assists, and Clare McMillan posted 12 assists in the victory.
The Belles (9-4, 3-3 MIAA) return to the court when they host Albion on Wednesday, September 30 at 7:00 p.m.