Belles Ground Thunder for First Conference Win
Alexis Grady had a career-high 15 kills along with 12 digs and three aces.
Katie Hecklinski added 14 kills and 11 digs.
McKenzie Todd led the team with 17 digs.
ANGOLA, Ind. - The Saint Mary's volleyball team earned their first conference win of the season with a 3-1 (25-13, 25-22, 20-25, 25-20) win over in-state MIAA rival Trine on Friday night.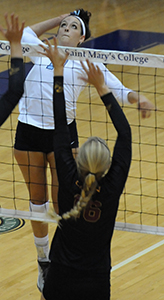 Alexis Grady had a career-
high 15 kills at Trine.The Belles were close to unstoppable in the opening set as Saint Mary's pounded down 15 kills on 26 attempts with no errors for a blistering .577 attack percentage. With the score standing at 10-9 in favor of the Belles, Saint Mary's won back-to-back points to make it 12-9. A kill by the Thunder four points later made it 14-11, but the Belles came right back with a decisive five-point run to make it a 19-11 contest. Saint Mary's then closed out the opening set with a five-point run for the 25-13 decision.
Saint Mary's got out to a 5-1 lead in the second set only to see Trine edge their way back into the contest. The Thunder broke a 10-10 tie with three straight points for a 13-10 lead, but that advantage proved to be their largest of the set and short-lived as the Belles tied things up at 13-13. With the score knotted up at 17-17, Saint Mary's was able to take the momentum and the lead - a lead which they would not give up. Trine got within a point at 19-18, but a pair of attack errors by the Thunder gave the Belles the cushion they needed late as Saint Mary's claimed the set 25-22.
The third set saw the Belles drop behind by their largest deficit of the match at 13-6. Saint Mary's pulled within three points of Trine at 18-15, but the Thunder responded with a five-point run to go up 23-15 before taking the third set 25-20.
In the fourth set, the Belles were able to respond to a single Trine point with two of their own a handful of times midway through the frame to gain a 17-12 lead. The Thunder made it a three-point set at both 19-16 and 20-17, but the Belles' offense was too much down the stretch at Saint Mary's claimed the win with a 25-20 victory.
Alexis Grady led all players with a career-high 15 kills to go along with 12 digs and three service aces. Katie Hecklinski added 14 kills and 11 digs to help pace the Belles. McKenzie Todd had a team-best 17 digs, and Clare McMillan had 37 assists.
The Belles (5-2, 1-1 MIAA) turn right around and host Adrian for a noon MIAA match tomorrow at Angela Athletic Facility.