Department of Psychology
Open your mind to the opportunities
Probably no other field is more broad than psychology. Simply defined as the science of the human mind and behavior, psychology students apply their learned skills and diverse knowledge to some of the most interesting careers. We encourage first-year students, both decided and undecided, to experience a variety of department courses to help uncover interests and explore potential paths of study you find exciting.
100%

of students conduct their own research

53%

of psych students study abroad

75%

enroll or complete grad school within five years [1]
Developing the skills to help others
If you see yourself one day as a licensed clinical therapist, school psychologist, occupational therapist, or physician, you'll want to take advantage of our clinical practicum and internships. Starting with classes to educate you on all facets of developing interviewing skills and building supportive, non-directive relationships, you'll learn how to help others in formulating strategies for positive change. Students also have opportunities work with children at our Early Childhood Development Center (ECDC) where they learn and practice skills in observational techniques and developmental assesments.
Expanding your options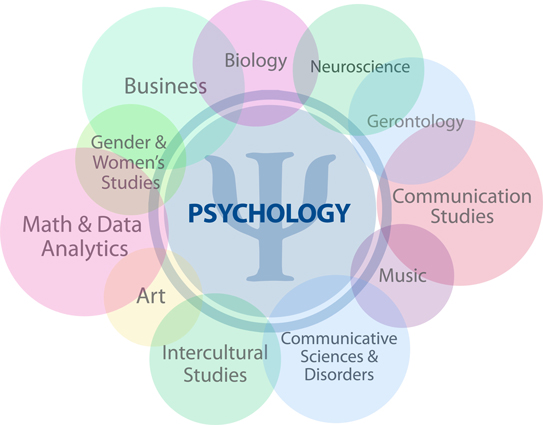 The field of psychology answers so many questions. What motivates people? Why do they act like they do? What happens in different environments? These are all aspects of cognitive, behavioral, and neuroscientific aspects of psychology. As a psych major, you'll be able to explore various aspects of each of these approaches as well as pair them with other Saint Mary's programs to develop a psychology career path tailored to your interest. So go ahead and pair your love of music, math or business with your major in psychology to become a music therapist, industrial psychologist or more when you earn a bachelor's degree in psychology.
Get a new view on the world
Why do more than half our students study abroad? Because we know there is value in expanding your awareness, experiencing other cultures and gaining a global perspective. And employers know it too! They want to hire individuals that engage in the world, not just study it. Over the years, we've developed a wide array of opportunities and relationships with communities around the world to make your experience a positive one. And they look forward to your arrival. Don't be surprised when you arrive in your home-away-from-home to have locals say hello and recognize you're from Saint Mary's.
Careers and Advanced Degrees
A degree from our Department of Psychology leads to a range of careers, including clinical private practice, and research psychology in academic settings. Applied fields include school psychology, industrial/organizational psychology, forensic psychology, and health psychology.  Many graduates enter related fields like social work and counseling.  Often, our alums use the critical thinking, research, and writing skills they refined in our department to work in other areas including education, law, business, and nonprofit management.
Our psychology graduates are rehabilitation counselors, school psychologists, behavioral paraprofessionals, and occupational therapists at companies and organizations like Abbot Laboratories, Beaumont Hospital, and the Michigan National Guard.
Approximately 75% of our majors enroll in graduate school within five year of graduation and have pursued advanced degrees at universities such as The Ohio State University, Northwestern University, Indiana University, Loyola University Chicago, Marquette University, Vanderbilt University, and the University of Kentucky.
Unprecedented Research Opportunities
Whether it's clinical psychology, behavioral psychology, educational psychology, or any other psychology field you decide to pursue, it's important to develop keen research skills along with an ability to extract findings for practical application. As a psychology major, all students work together in their junior year to complete a collaborative psychology study/research project. This experience not only teaches you strong collaboration skills but makes you well-prepared to complete an extensive senior comprehensive of your own. This final project will allow you to gain valuable experience in theorizing, conducting, analyzing, and presenting relevant research. And for nearly forty years, we've had students selected annually to present their findings at the Midwestern Psychological Association Conference and other national conferences held each year.

Learn more about our local chapter of Psi Chi and how to join.
1  Data was collected from an internal survey, sampling students from the classes of 2003 through 2011 five years after graduation from Saint Mary's College.