Judd Leighton Speech and Language Clinic
Speech Language Pathology
34 Madeleva Bldg. Ste. 150
Saint Mary's College
Notre Dame, IN 46556
Phone: 574-284-5210
Fax: 574-284-5088
E-mail: 
leightonclinic@saintmarys.edu
The Judd Leighton Speech and Language Clinic (JLSLC) at Saint Mary's College is a speech language pathology clinic providing services for children and adults with communication disorders. Services are      provided by student clinicians who are supervised by an American Speech Language and Hearing Association (ASHA) certified Speech Language Pathologist (SLP) who is licensed in the state of Indiana.
The Judd Leighton Speech and Language Clinic at Saint Mary's College, Notre Dame, IN semester schedule:
Clinic begins:  FALL, Tuesday, September 3, 2019
No Clinic Fall:  October 21, 2019-October 25, 2019
Last Day of Clinic Fall:  Thursday, December 12, 2019
Make-up dates: There is no charge for missed appointments, and there will be no make-up appointment. Please refer to the Attendance Policy. ( Please note: After 3 missed appointments, client can be discharged from services)
Clinic begins:  SPRING, Tuesday, January 21, 2020     
No Clinic Spring:  January 20, 2020, March 7-March 15, 2020 and April 10-April 13, 2020     
Last Day of Clinic:  Thursday, April 30, 2020
Make up dates:  There is no charge for missed appointment and there will be no make-up appointment.  Please refer to Attendance Policy.  (Please not:  After 3 missed appointments client can be discharged from services.)
CLOSINGS:
When South Bend Community School Corporation closes due to inclement weather, then the Judd Leighton Speech and Language Clinic will also CLOSE.
SERVICES
Speech Services available through the clinic include speech and language evaluations and treatments for children and adults who present with both acquired and developmental disorders in the following areas:
Articulation and phonological disorders
Receptive and expressive language disorders
Aural rehabilitation
Voice
Fluency disorders
Communication modalities, including AAC consultation
Social communication disorders
Cognitive communication disorders
Dysphagia & feeding consultations
Audiology
Hearing screenings are also available through the clinic. These assessments are performed by student clinicians under the direction of an ASHA certified Speech-Language Pathologists.
The clinic is designed to offer SLP services to community members, and in turn provide a complete educational experience to the Saint Mary's College students in the Speech Language Pathology undergraduate program and the Master of Science in Speech Language Pathology program. 
Summer  
The Judd Leighton Speech and Language Clinic will continue offering the following: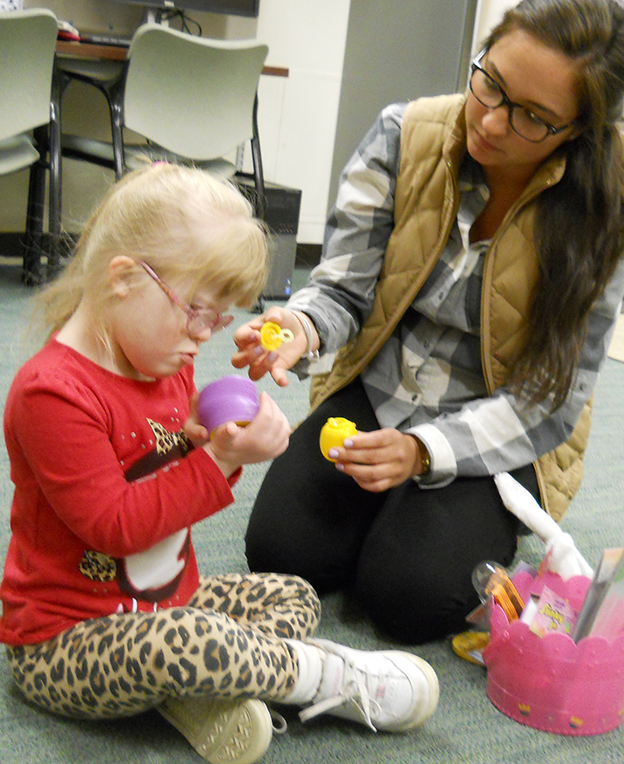 Pediatric Groups:
Summerime Speech Information for the Summer 2020 Clinic will be coming soon
Session Fee: TBD
Current clients will be offered enrollment prior to new clients. 
Open enrollment will begin 2 weeks after current semester start date.
For more information Email leightonclinic@saintmarys.edu
Adult Groups vary by semester.  There is an
Aphasia Discussion Group that meets 
weekly during the Fall & Spring semesters.
Notes:
Please plan for 12 weeks per semester, at least one session per week.
We will be following the campus calendar.
 
**The Department of Speech Language Pathology is committed to serving the community and will work diligently to ensure that services can be made available. When sessions become full, a waiting list for services will be implemented. 
Speech Language Pathology
34 Madeleva Bldg. Ste. 150
Saint Mary's College
Notre Dame, IN 46556
Phone: 574-284-5210
Fax: 574-284-5088
E-mail: leightonclinic@saintmarys.edu
Get Started:
Complete and send the  Adult  or  Pediatric  Intake Form
Please Park in The Clubhouse Parking Lot: see MAP
With your first appointment at the clinic you will receive a parking pass to be placed in your vehicle while attending clinic. Please note: the clinic has parking in the Madeleva/Clubhouse lot, but we cannot guarantee a parking spot in that lot. You may use any parking lot on campus with your parking pass.
About Saint Mary's College: Founded in 1844 by the Sisters of the Holy Cross, Saint Mary's College is rooted in its mission to prepare women to make a difference in the world. A pioneer in the education of women, Saint Mary's is a four-year, Catholic, residential, liberal arts college in Notre Dame, Ind. The College is an academic community offering bachelor's degrees in more than 30 major areas of study, including business, nursing, education, biology, social work, and English. Saint Mary's also offers co-educational master's degrees in data science, speech language pathology, autism studies, and a Doctor of Nursing Practice.
The Judd Leighton Clinic at Saint Mary's College, Notre Dame, IN does not discriminate in the delivery of professional services on the basis of race, color, religion, national or ethnic origin, disability, age, sexual orientation, genetic information, citizenship, or status as a covered veteran, or other characteristics protected by federal, state or local statute or ordinance.