Adrienne Whisman
Student Profiles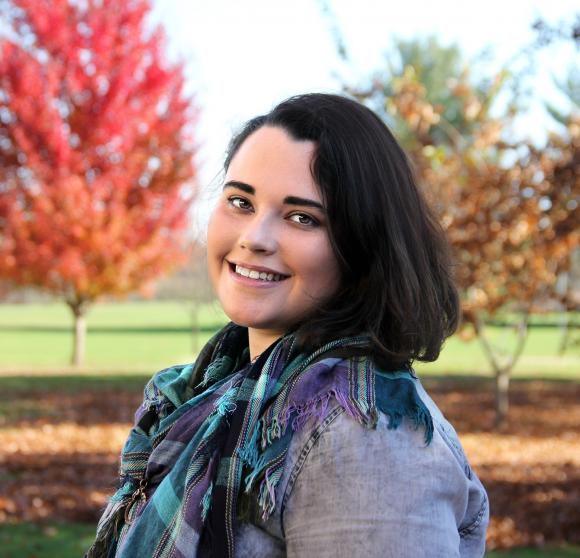 Adrienne Whisman
Major(s):
History
Humanistic Studies
"MY EDUCATION HAS PROVIDED ME WITH AN UNDERSTANDING THAT WE ALL HAVE THIS COMMON HUMANITY EVEN WHEN WE'RE FROM DIFFERENT CULTURES."
Adrienne Whisman has always loved stories. When she chose Saint Mary's for the small class sizes, cozy atmosphere, and beautiful campus, she knew that this place would be more than a setting for her own life story.
The granddaughter of an alumna, Adrienne is interested in art, history, and literature. At Saint Mary's, she's able to study all three as a double major in history and humanistic studies, a major that combines disciplines of history, literature, philosophy, theology, and art in an effort to better understand Western culture as a whole.
"I fell in love with the campus and knew these majors incorporated all that I want to learn."
Researching the bigger questions
At the end of October Adrienne, along with Ali Tipton '18 and Katlynn Dee '17, attended the Seneca Falls Dialogue conference in New York. Adrienne's work on portrayals of lesbian women during the Cold War sparked her interest in activism.
"These women were labeled as morally degenerate and while that created a stereotype, it also allowed them to build strength in underground movements."
Her research has been in-depth and at times challenging, but Adrienne knows there is a lot to learn from history.
"I've always loved stories, which provide understanding from a human perspective. I'm very interested in cultural movements and the thought processes behind them. Why did people think and act the way they did? Those questions drive me."
Referring to history to create a future
Ultimately, Adrienne believes a lack of empathy is what troubles many movements and individuals.
Although she doesn't yet have her post-graduation story drafted, Adrienne knows she wants to work in human rights, internationally or domestically.
"My education has provided me with an understanding that we all have this common humanity even when we're from different cultures."