Anahy Torres-Vega
Student Profiles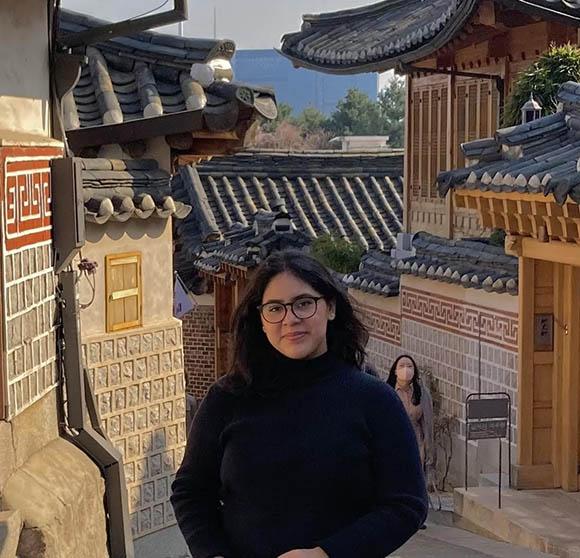 Anahy Torres-Vega
Major(s):
Global Studies - Intercultural Studies*
Psychology
"It feels like home to me and Saint Mary's made it easy to adjust to a big change."
Immediately stepping out of the car to visit campus, Anahy Torres-Vega '23 knew Saint Mary's would be her next journey after high school. She was happy once her high school counselor suggested Saint Mary's as an option for her because it was a suggestion that would transform her future. 
Classroom Perks at Saint Mary's 
Many women on campus, including Anahy, come to Saint Mary's because they get the opportunity to enhance their studies due to the relationships they build with their professors. These close relationships allow students to better understand classroom material and feel comfortable to express their insightful thoughts. 
"One of the reasons why I decided to come here was because of the close relationships students get to build with professors. The small class sizes and professor relationships have helped me understand not only the material but how I am as a student." 
"It is so nice getting greeted by my professors in the halls because it shows how much they know and care about your success as a person and student." 
Student Involvement
At Saint Mary's there are so many opportunities to meet individuals who have the same interests and values as oneself through the clubs offered to students. The campus community makes sure everyone feels welcomed and belonged within these clubs. There is a place for everyone on this campus and Anahy found her place with her involvement in SAGE club, Psi Chi, and the Student Diversity Board. 
"The chance to join all these clubs has helped me gain a lot of connections and find people I know I can depend on for specific things." 
"It is nice that these clubs give students many resources in order to help them regarding certain situations. With the Student Diversity Board, I got to meet a lot of people and learn about the issues they advocate for and their efforts to promote events for certain groups of people. I get to see the representation within the campus."