Catherine "Kate" McMahon
Student Profiles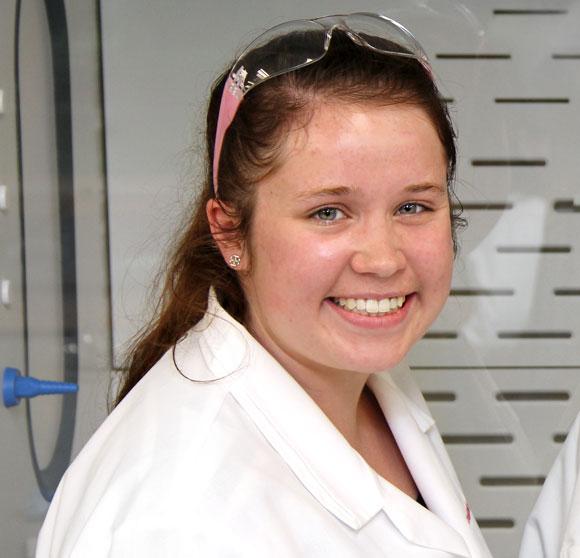 "There was a lot of 'I don't know' until I did know."
Kate McMahon '18 is a scientist at heart but that doesn't mean her path was always clear to her. As a first-year student, she arrived at Saint Mary's as undeclared – thinking chemistry – but quickly fell in love with communication studies, business, and engineering as well. While her mom was never a fan of her considering other majors, Kate took the time to explore her options.
As she explored, Kate recognized her natural ability in her communication studies classes, but she still loved chemistry. She took communication classes each semester and slowly shortened her list to just those two possibilities. Her first-year advisor, Amy Houser, worked closely with her and commented that Kate would "really light up" when discussing chemistry and pushed her to find out if she could do both. Since chemistry requires 62 credit hours, a double major just wasn't realistic and Kate knew she would soon need to decide.
That a-ha moment
In her sophomore year, she started organic chemistry with Professor Dorothy Fiegl and finally knew where she was meant to be. Reflecting on that moment, Kate shares, "It was perfect. I just knew that this is what I was supposed to do." But that didn't mean giving up on communication studies. Instead, she continued to explore and found there was a real need in the industry for both. That summer she began taking science communication seminars and hasn't looked back since.
Finding her place in the world
Getting ready to graduate in just a few months, Kate has big plans ahead. She's currently a finalist for a Fulbright Study/Research Grant in Poland and is preparing to attend graduate school at Colorado State University where she will go on to get her PhD in chemistry. While the focus in both is to conduct research herself, her end-goal is to play more of a consulting role, working with brilliant scientists and making their research meaningful to the public. The fast-growing field of scientific communication is still relatively undefined but a person with her skill set can really make a difference. "I can make this what I want," Kate exclaims. She ponders whether that will mean grant writing or becoming a liaison between governmental and private sectors with excitement in her voice.
Kate's experience is a perfect example of the benefit of exploring options at Saint Mary's. Working with advisors, professors, and the Career Crossings Office, students have the opportunity to gain experience and determine what they like, what they don't, and most of all, what they love. Reflecting on the beginning of her college career, she shares "there was a lot of 'I don't know' until I did know." Kate continues, "I don't know that I would have come to the same conclusion had I not been able to explore."