Angelica Knox
Student Profiles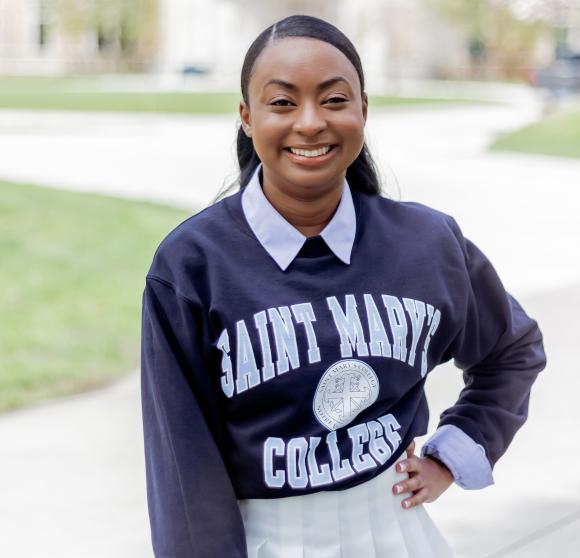 Angelica Knox
Major(s):
Business Administration - Marketing*
"I feel more comfortable participating in class because I know my classmates will support my voice and listen to what I have to say" 
After a high school counselor introduced Angelica Knox '22 to Saint Mary's, she took every opportunity to visit the campus before actually attending. 
"Saint Mary's is a very special place because women have the luxury of being comfortable in their own skin. You don't have to change who you are, you will find people who are just like you on this campus and forge unique relationships." 
Applying Course Material into the Real World 
The enduring connections Angelica has established with her professors has given her the confidence to exercise classroom material into her own life. In 2021, she started a small business with her mother selling an organic hair oil product to revitalize damaged hair to produce stronger and healthier hair. At first, it was just a simple recipe shared among her family members, but soon transformed into a small business organization. 
"My mom and I had brainstormed our visions about what we wanted the brand to be and came up with the name Shades of Melan. We wanted to hone in on the inclusivity of all women, all skin tones, and all hair types."
"I was very big on using social media to get the word out about our product and brand. It has been really successful and I am currently having so much fun promoting the brand on social media. Taking specific courses here has given me the opportunity to take this brand to the next level." 
Reflecting on the Saint Mary's Experience
As commencement slowly came closer for Angelica she took the time to think about all the great memories and opportunities she was able to experience at Saint Mary's. Not only did she immerse herself into the Saint Mary's community, but Angelica also cherished the memories created as a saxophone player for the Notre Dame Marching Band. 
"Taking those trips everyday down The Avenue, to the Grotto (at the University of Notre Dame), then going to practice, and catching Blinkie was my favorite memory. It's the little small moments that mean the most to me. I had the best of both worlds experience with being part of the Notre Dame Marching Band and attending school at Saint Mary's." 
A Message to Future Belles
College can seem very scary and intimidating at first, especially when students are entering a completely new environment. Angelica expressed the ease in the transition to college because Saint Mary's was such a welcoming community and open to helping students feel comfortable in a new place. 
"I know some girls would be hesitant to enroll in an all women's college, but women should definitely give it a chance in order to be open to new experiences. It's not what women probably think a women's college would be like, honestly it is such an impactful experience." 
"Saint Mary's helps shape who you are and the main importance of your experience is to be true to who you are because being true to who you are on this campus will get you far in regards to personal development." 
Angelica cherishes how much this community allowed her to find herself and understand her future. She credits her success to all the opportunities provided to her from this special place.