Christina (Nina) Midgley
Alumnae Profiles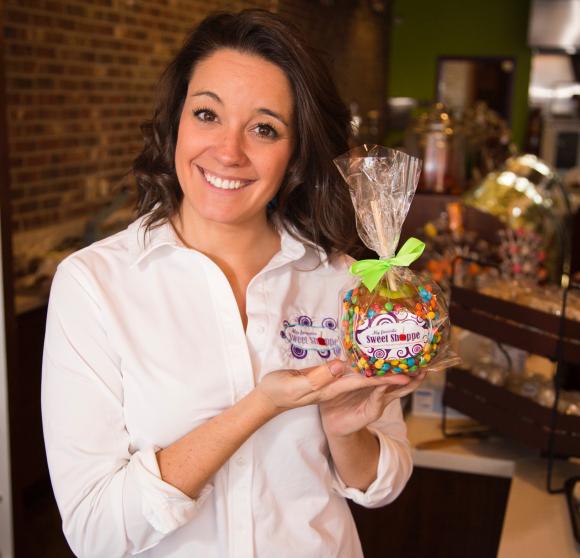 Christina (Nina) Midgley
Minor(s):
Public Relations/Advertising
"Saint Mary's prepares you for a life of success, no matter what that means to you."
Christina (Nina) Midgley '11 owns a thriving business, My Favorite Sweet Shoppe in the Pittsburgh area. Named one of Pittsburgh's 13 under 30 by WHIRL Magazine in 2016, Nina utilizes her communication studies degree and her public relations minor to serve up sweets and market the shop to customers.
Saint Mary's nurtured Nina to follow her dreams and provided her the experience to succeed.
"As a small business there isn't a department for marketing, advertising and promoting your business, so all of that falls on me. I learned valuable lessons in my communication degree which led to two excellent jobs that gave me experience in marketing, public relations, and advertising which in turn I use every single day."
"Saint Mary's prepares you for a life of success, no matter what that means to you."
Discovering New Opportunities
Saint Mary's provided Nina the resources to become a successful business woman.
"Saint Mary's taught me how to be a professional not only within my field of study, but as an overall person. I learned to believe in myself, I learned to trust my gut, I learned that I can do anything I put my mind to, and probably most importantly, Saint Mary's taught me to a moral person, a humble person, and a giving, kind woman."
Strengthening Local Communities
Nina keeps social responsibility at the core of her business's mission, as inspired by her undergraduate education.
"As a Saint Mary's woman, I lead my business on the idea that we are here for our community and to bring people together, whether it is the children that visit, the organizations that we support, or the families that have made us a regular part of their routine. We strive to make My Favorite Sweet Shoppe a place that everyone feels welcome." 
Check out Nina's sweet treats on her Instagram account @myfavss_pgh or her website www.myfavoritesweetshoppe.com
Written by Rachel Anne Ramos, media relations intern and business administration major with a concentration in marketing.