Corinne Craig
Student Profiles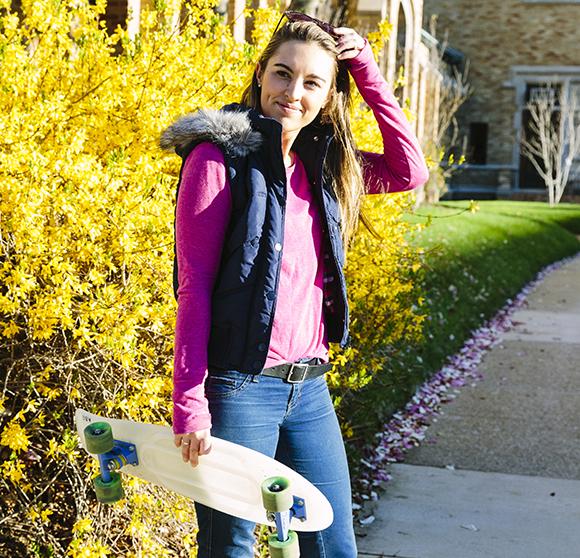 Corinne Craig
Major(s):
Business Administration - Marketing*
"Saint Mary's has been a journey of leadership, personal growth, building connections, and creating long-lasting friendships."
When she first arrived at Saint Mary's, Corinne Craig didn't plan on getting too involved with things outside of the classroom. But when she saw the vibrancy of life on campus, that quickly changed.
Serving and Leading
As a business major, Corinne saw an abundance of opportunities to get involved in ways that would both position her to lead and serve her class. She accepted the role of treasurer for student government, she got involved with the Young Executives Club, and she immersed herself in activities like Midnight Madness and Dance Marathon.
"Saint Mary's is a place that inspires you to get involved. It's in the spirit here. There's a connection you feel with everyone here and that makes you want to engage every chance you get."
Developing Her Skills
During her junior year, Corinne was elected class president, and she got more involved with the Young Executives Club, serving as its social media director. Through these experiences, she led fundraising campaigns, communicated with the student body, and organized networking events, business fashion shows, and Senior Week.
"I consider serving as class president one of my greatest accomplishments so far. It's an honor and very rewarding to be a leader for my class, and I'm developing skills I'll always have with me."  
Improving Lives
For Corinne, her extracurricular experiences are about more than strengthening her resume and developing skills; it's about giving back. Through Saint Mary's relationship with the University of Notre Dame, Corinne took part in Habitat for Humanity, building homes for local families. And under her leadership the student government adopted a family in need for Christmas and provided gifts and necessities.
"Students here are called upon to serve others and make a difference in society, and we answer that call because of the confidence and faith Saint Mary's instills in us."