Student Profiles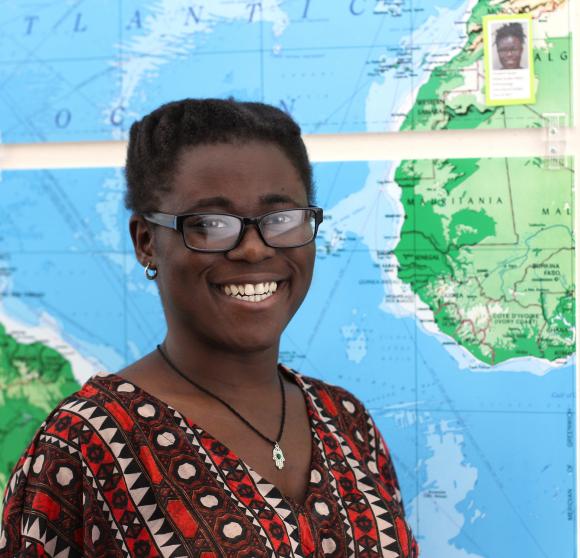 Elizabeth Quaye
Major(s):
Global Studies - Anthropology*
Global Studies - Intercultural Studies*
"THE GLOBAL STUDIES MAJOR HAS PUSHED ME TO UNDERSTAND MY ROLE AS A WOMAN IN A GLOBALIZED WORLD."
Choosing a college just eight miles from home took Elizabeth Quaye around the world. The native of Niles, Michigan was drawn to Saint Mary's for its small class sizes and individualized education. She hadn't expected to grow into a woman with a global perspective.
Developing a passion for language
Elizabeth has studied French, Arabic, and Mandarin throughout her four years here. She finds language a vehicle to learn more about others and their cultures. "The global studies major has pushed me to understand my role as a woman in a globalized world."
Discovering her own culture abroad
Elizabeth's love for learning languages propelled her to choose Morocco in the spring of her junior year where she utilized her Arabic and French language skills at an American university. Elizabeth says studying abroad taught her a lot about herself and her own culture, as well as about Moroccan culture and values, and to develop deep friendships. "Living in another culture helped me realize what my own culture is about."
The interdisciplinary nature of the global studies major weaves together studies in political science, world civilizations, anthropology, and more. "The global studies major allowed me to learn more about the world I live in. Saint Mary's was the best choice for me."
Empowering a life-long learner
Post-graduation, Elizabeth hopes to travel more, and with the international friendships she has made, she knows she'll have a place to stay. "Saint Mary's has prepared me to work with people from international backgrounds, and I hope to continue developing my language skills and learning from others."