Student Profiles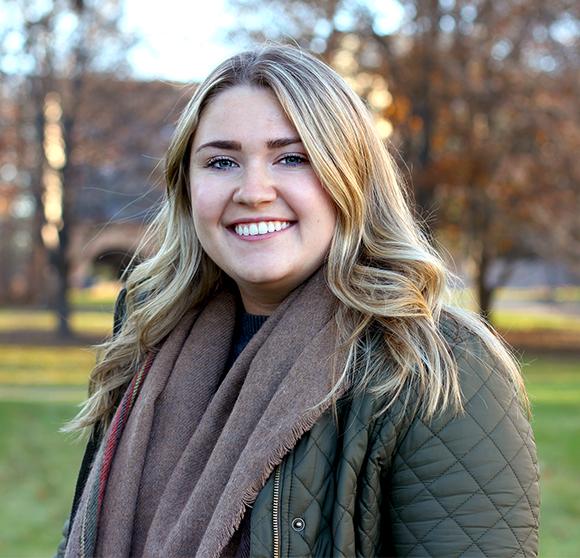 Colleen Drolet
Major(s):
Communicative Sciences and Disorders
"I have learned so much about the services, policies, and aspects of aging."
Colleen Drolet '18 knew when she toured campus for the first time Saint Mary's was a unique place. Her mom and sister both graduated from Saint Mary's, and Colleen has looked up to them and admired their compassion and strength as well-rounded women.
The Catholic education was an important factor to Colleen, too, as she wanted to continue growing in her faith and spirituality throughout college.
Pursuing a passion to learn and serve
​Colleen chose to study communicative sciences and disorders (CSD) and knew a smaller school would provide her with unique opportunities to develop relationships with her professors. Her goal of becoming a speech pathologist, led her to pair her passion and interest to serve elderly people with a minor in gerontology.
The time Colleen spent with her grandfather in the memory care unit of his nursing home has inspired her future career. With a combination of CSD and gerontology, she has an advantage in the workforce where there is a strong demand for speech pathologists to work with the elderly.
"I have always had a huge spot in my heart for the elderly. We are all going to experience aging, and I have learned so much about the services, policies, and aspects of aging."
Colleen says the education she has received at Saint Mary's will prepare her well as she pursues a master's degree in speech pathology after graduation. She is excited to use everything she has learned in the classroom, and in the clinic.
For Colleen, serving people who have lost the ability to speak is the most rewarding way to use her gifts to serve and inspire others with confidence developed at Saint Mary's.
Written by Emily Doyle '18 media relations intern and business administration major with concentrations in marketing and management.