Danielle Lamb
Student Profiles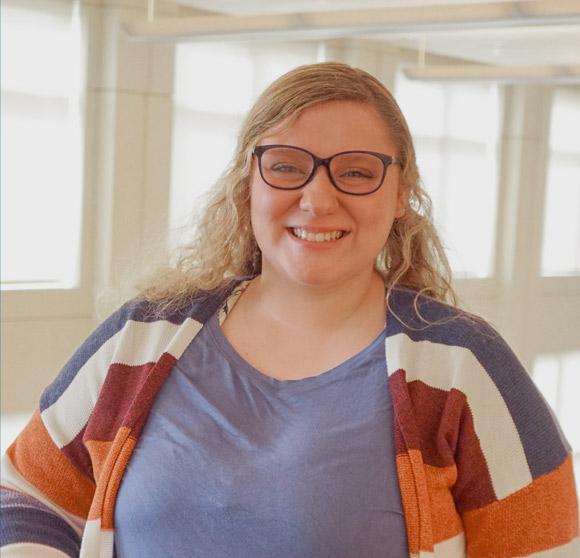 Danielle Lamb
Minor(s):
European History
Theatre - Production
"It's not just a hobby,
it's going to be my career."
Danielle Lamb '21 has dreams so big she just might stage a theater production out of them. Danielle is a theatre major with a concentration in theatrical production. She uses her technical expertise to help stage manage Saint Mary's theater shows and events, and she works behind the scenes building, crafting, and designing for each show. She also hopes to someday combine her love of animals with her love of theatre. 
"I've trained dogs and horses for many years now and I feel like my two lives are colliding," she said. "It's becoming more and more popular to have animals on stage now." 
Handling It All
Those in the world of theatre who deal with live animals are known as handlers. Danielle says that while animal trainers teach the animals the commands necessary for that specific theatrical production, the handler is the one who works backstage during the show giving the animals the commands and making sure they follow them while on stage. 
While Saint Mary's doesn't feature any classes on animal handling, Danielle says that the communication studies, dance, and theatre department have done little things to help get Danielle where she wants to be as she aspires for her career, including letting Danielle train and handle her dog during "9 to 5," which was a part of the Saint Mary's 2018 theater line-up. 
Along with studying theater production, Danielle also supplements this education with a minor in European history, which may seem out of place, but actually provides Danielle with a lot of useful education when it comes to designing theatrical lights, sets, and costumes from a particular era in history. 
Showing the Love
All in all, Danielle said her favorite thing about the College has been everyone's generosity and the love, support, and encouragement that radiates from the SMC community whenever there's theatrical production on campus.