Student Profiles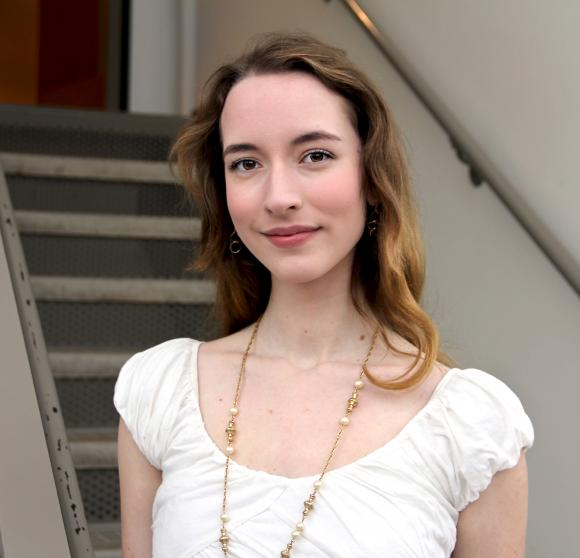 Elise deSomer
Major(s):
Art (Studio Art)*
English Literature
"What a Saint Mary's education means to me is that people don't underestimate you."
Elise deSomer '17 has found her voice while at Saint Mary's. She is a double major in studio art and English literature with a minor in English writing.
"A Saint Mary's education means realizing that my intellect and my ideas are worth something. I think there's nothing more powerful than realizing that. What a Saint Mary's education means to me is that people don't underestimate you, and peers and professors respect each other no matter what their backgrounds are."
Traveling outside her comfort zone
One of the experiences Elise cherishes most is her time spent studying abroad at Maynooth University in Ireland during the spring of her sophomore year. 
"I got a certificate in Irish Studies. That's something that wasn't really on my radar. I was a rather timid person when I came here, and not very adventurous. I'm from South Bend and thought Saint Mary's was far enough away for me to go to college."
"Saint Mary's gave me the confidence to hop on a plane without my parents and know I'm going to be just fine. The fearlessness Saint Mary's has given me makes the idea of going out of state for a job not intimidating for me anymore."
Embracing her challenges
Considering her detail-oriented fields of study, it's surprising to learn that Elise feels her greatest challenge throughout her education has been her attention span.
"I have struggled with ADHD all my life. This is something I'm open about. I think that finding the coping skills and not being afraid to reach out to professors has been an adaptation I needed to change from high school to college."
Elise found the learning environment at Saint Mary's to be extremely conducive to her needs.
"I'm very thankful for the faculty here working with students with different ways of perceiving the world. Our professors are very open to brains that work a little bit differently than other people."
Elise is still in shock after being named one of the valedictorians for the class of 2017.
"It's very surreal. I wasn't a good student in high school, so I'm still having a hard time realizing that this is actually happening. It means a lot to me to be able to represent the college in this way."
Written by Emerald Blankenship '17, media relations intern and business major with a concentration in marketing.