Student Profiles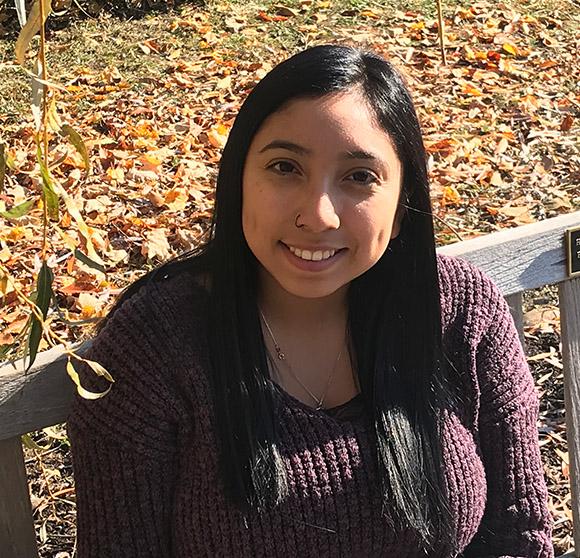 Favioli Cruz
Minor(s):
Intercultural Studies
Psychology
"No matter who you are if you want something you have to go after it!"
Favioli Cruz '19 dreamt of pursuing a career in law enforcement before she came to Saint Mary's. Her passion for the field grew deeper while at the College, as she was able to take courses related to criminology and sociology and stay close to home.
"The education I'm receiving here has helped me grow and do better in understanding this field."
Putting thought into action
In summer 2018, Favi interned at the St. Joseph County Metro Homicide Unit and said the hands-on experience she received confirmed her passion for law enforcement. "Going in, I thought I wouldn't like it and that it wouldn't be for me, but the internship ended up being something that I loved. It gave me a different perspective of crime and justice in our society."
Although she had engaged with many of the applicable concepts in her classes, Favi gained a lot from being in the field. "More than just reading about it in my textbook, I was able to get a behind the scenes look into crime, from the start of the crime, to taking the case to trial, and following it through."
Breaking barriers
Being a woman in a male-dominated field does intimidate Favi, but she feels empowered to challenge the gender stereotype. "I think a lot of females get the perception that they can't be in law enforcement, or they won't be strong enough or capable, but one thing the men at the [Homicide Unit] emphasized to me was that if you want to do something you should do it, and no one can stop you from that."
Through her experience at the Homicide Unit everyone Favi worked with welcomed her and treated her as family without consideration of gender, age, or ethnicity, and that empowered her to be confident in herself. Favi hopes to go into federal work after graduating, and her goal is to be able to challenge people's perceptions of law enforcement.
What fueled Favi's passion in this field was the opportunity to explore the structural problems being faced and to help her community for the better.
"At Saint Mary's I learned how to ask the right questions and look deeper than just the information that is given to you and that helped me want to challenge the mainstream ideas that most people have."
Written by Iman Omar '19, media relations intern and communication studies major.