Ellen Smithey
Student Profiles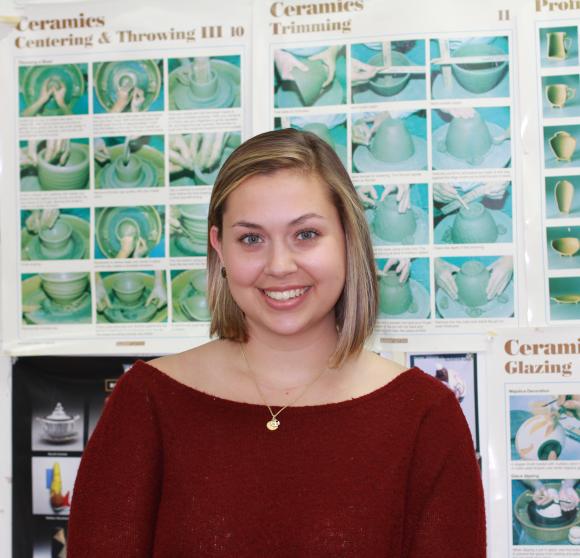 "I LOVE SAINT MARY'S BECAUSE I GET TO TAKE EVERYTHING I'M LEARNING – ITALIAN, PSYCHOLOGY, PHILOSOPHY – AND PUT IT INTO MY ART."
Ellen Smithey chose Saint Mary's for the art department, study abroad opportunities, and the empowering environment of all-women.
"I love Saint Mary's because I get to take everything I'm learning – Italian, psychology, philosophy – and put it into my art. That's the beauty of a liberal arts education."
Sculpting a passion that heals
Ellen recognized the therapeutic qualities of art from a young age.
"I think art makes me a better person. Art can be a way of healing and of coping."
She loves ceramics and working with clay. "I'm drawn to the movement and the process of making clay." Making clay is the process of reusing clay scraps, takes several hours, and very strenuous, but it's rewarding for Ellen because the result creates something beautiful.
Leading dreams to reality
Because Ellen sees the value of art in her own life, she is passionate about bringing it to others, especially those struggling with illness.
Her internship last summer in art therapy at St. Louis Children's Hospital helped her to imagine a career as an art therapist. "I had to get creative with treatment because many of the kids couldn't use clay, specifically those with cystic fibrosis."
Currently she is applying to graduate schools in art therapy and Saint Mary's has prepared her well. "I want to use all I've learned to help kids and teenagers get through tough moments. Art has always been there for me."