Emma Bolton
Student Profiles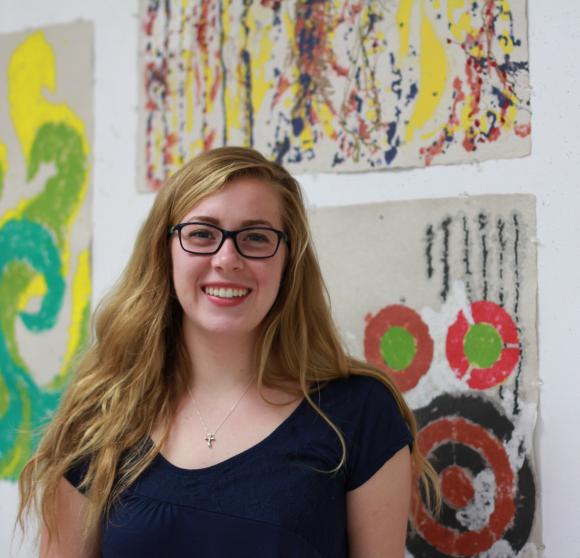 "I FOUND A GREAT COMMUNITY HERE AS A TRANSFER STUDENT AND A STRONG GROUP OF WOMAN ARTISTS."
Emma Bolton has always loved art. An interest in textiles and sculpture led her to transfer Saint Mary's her junior year.
Another deciding factor in her decision was the all women's aspect.
"Men dominate art history, but here female artists surround you. I found a great community here as a transfer student and a strong group of woman artists."
Creating a larger than life project
When thinking about her senior comprehensive project, Emma began researching birds. "Birds are a symbol of life and death. I wanted to use birds as an uplifting portrayal."
She used fabric from her life — gathering scraps that her grandma has used to patch pants and sew — to sculpt cloth birds.
Spring of her senior year, she presented her work in a gallery opening. "Hosting a gallery opening taught me a lot about time management and all that goes into being an artist."
Crafting a home away from home
Emma has found that the small class sizes foster relationships among classmates and between students and faculty.
"Small classes allow everyone to get to know each other really well and the community here is so vibrant. It's hard to put my finger on it, but there's something unnamable about Saint Mary's that makes it so special."