Emma Hoffman
Alumnae Profiles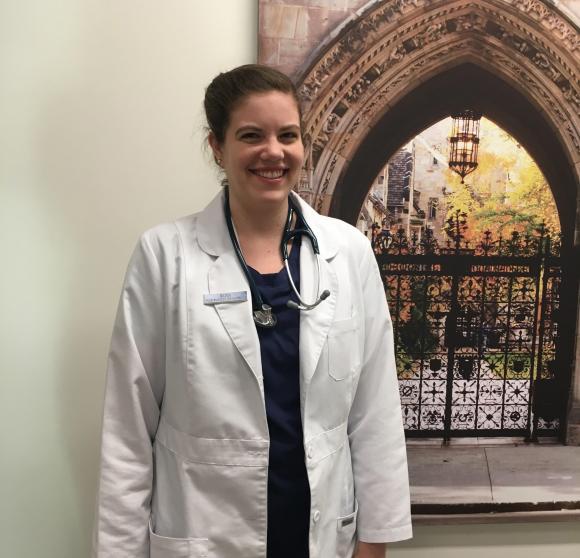 Emma Hoffman
Major(s):
Biology - Cellular/Molecular*
"Saint Mary's taught me the importance of learning something new every day."
Emma Hoffman '11 is assured her education at Saint Mary's helped pave the road to self-discovery. Emma studied biology at Saint Mary's and is currently continuing her education at Yale's School of Nursing to pursue a master's of science in nursing to become a registered nurse and a nurse practitioner.
She values her Saint Mary's education for the way she was prepared to navigate life and its obstacles.
"Saint Mary's prepared me to think critically about complex problems and gave me the confidence to become a leader among my peers."
Growing in an Empowering Environment
Saint Mary's provided Emma with a supportive environment that allowed her to thrive both personally and academically.
"I always felt that my professors encouraged me to explore new ideas and test my limits even if that meant failure sometimes. Now I realize it is ingrained in the culture of Saint Mary's to allow students to take risks and set the bar high for themselves. It is a powerful experience to be around women who are successful that also encourage each other to do the same."
Preparing for Graduate School and Beyond
After Saint Mary's Emma gained experience working as a Research Project Coordinator at Northwestern University on various projects at Northwestern Memorial Hospital's Comprehensive Transplant Center.
"Saint Mary's gave me the opportunity to experience a broad liberal arts education and explore leadership positions that have proved invaluable in my career. Saint Mary's will always have a special place in my heart for the lessons I learned and the lifelong friendships I gained."
Written by Rachel Anne Ramos, media relations intern and business administration major with a concentration in marketing.