Jennifer Sporleder
Student Profiles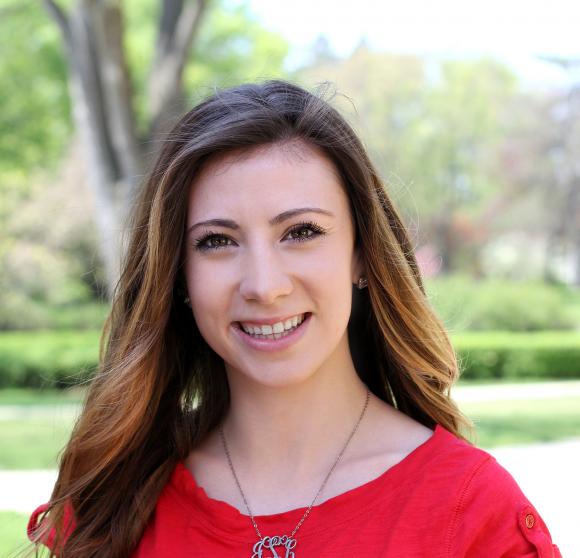 Jennifer Sporleder
Major(s):
Business Administration - Marketing*
"Saint Mary's wants you to succeed and grow, not only in your academics, but as a person."
Jennifer Sporleder '17 can't stop smiling when she talks about her love for Saint Mary's.
"I get this sparkle when I talk about Saint Mary's or even just think about it! I didn't get that at any other college. It's a weird feeling when you know you just fit somewhere and you can't explain it. Anyone who is a Belle gets that feeling because it's so unique to our campus."
Preparing for success
After deciding to major in business administration, she found marketing and management were her best fit within the department. Jennifer hopes to have a business of her own in the future and feels the coursework at Saint Mary's is preparing her to pursue that goal.
"I found a passion in marketing. It's so creative and expressive. There's something really special about creating something from nothing to drive a customer which I found really interesting. "
Bringing empathy into business
Jennifer took advantage of the College's Sophia program by selecting courses she was interested in learning more about. She ended up finding an unexpected minor to complement her business degree — intercultural studies.
"Intercultural studies goes with business in understanding and relating people of different perspectives and cultures. That comes into play not only in managing but also when you're marketing your products. Coming from a place with little diversity, the opportunity to learn about intercultural studies has been a valuable piece of my development here."
Surrounding herself with greatness
As Jennifer looks forward to entering the real world after graduation, she can't help but recall the hesitation she felt about leaving home and coming to college. Jennifer credits being surrounded by amazing women for empowering her to achieve success at Saint Mary's.
"Uncertainty is always going to be scary. Saint Mary's wants you to succeed and grow, not only in your academics, but as a person. When you go to college, there will always be that transition period. As long as you embrace the opportunities Saint Mary's offers, you will be able to have the experience you're looking for."
Written by Emerald Blankenship '17, media relations intern and business major with a concentration in marketing.