Libbey Detcher
Student Profiles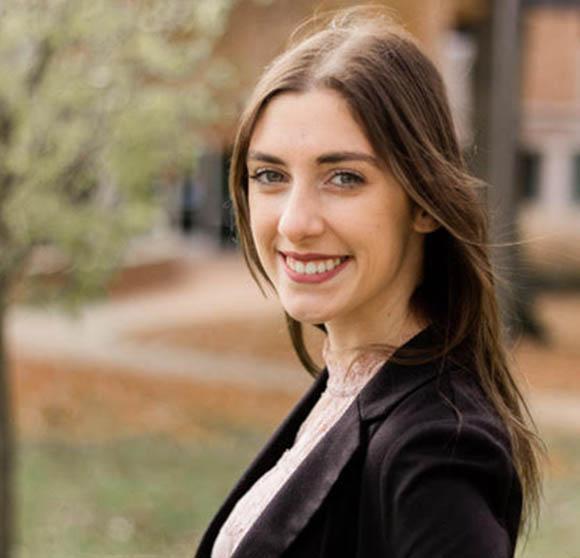 Libbey Detcher
Minor(s):
Intercultural Studies
Justice Education
"I have grown into my own skin at Saint Mary's and have been given a platform, a voice, and a method to be able to speak out on my opinions to make meaningful change."
When Libbey Detcher '23 was preparing for her college career, her mind was set on attending Saint Mary's then transferring to Notre Dame. However, during her first six weeks at Saint Mary's she could not come up with a valid reason to transfer out of her new home. "I was more than satisfied and felt I was at home." 
Using Her Voice to Make Changes 
For the longest time, Libbey has always expressed a liking towards politics. Her continued passion for politics blossomed as a result of the endless opportunities provided to her through her education at Saint Mary's. She not only strengthened her knowledge of politics, but also utilized her education to pursue work outside of her academics to increase voter registration and participation through her social impact initiative Promote The Vote platform. 
"I do voter advocacy of encouraging people to register to vote and participate in elections. But, now I have tailored my work towards redistricting. When they redraw the lines of who represents who, it is often done in very partisan ways. My senior comprehensive project is now focused on congressional redistricting." 
As Libbey generated needed changes within our political system, she came to realize how much her faith has inspired her ultimate goals for our political system. 
"Most of my work, even more so on voting, focuses on making sure there is accurate representation which stems from my faith. When you're being represented, people should be represented equally as part of honoring their inheriting duty."
Making More Meaningful Relationships 
After experiencing the power of a small knit community of women, Libbey came to understand the importance of creating strong relationships with not only her peers but with her professors as well. She highlighted how much these relationships have helped her procure professional experience. 
"Being able to talk to my professors about topics that are more than academics, grades, course work, etc. is something I could not get anywhere else. I can see the difference with how much my peers are willing to contribute to conversations during class and the nature of the conversations." 
The ability to develop these relationships with her professors and peers has allowed her to grasp a variety of perspectives regarding various topics which Libbey said produced a lot more meaningful interactions within her conversations. 
Embracing the Social Aspect of College 
Libbey emphasized how much Saint Mary's contributed to her social development. As a young women who was on the executive board for both the political science club and feminist united, Libbey was able to ehance her social skills. Additionally, through her involvement with Phonathon Libbey strengthened her communications skills which she knew would be highly beneficial for her future career as far as networking. 
"As a supervisor for Phonathon, I did not realize how much it would tremendously help me professionally. I never thought that calling alumnae for donations for the school would be such a great asset on a resume. For every internship I applied for, during the interview process I would be asked about working with Phonathon and admissions. Having those communication skills is great!"