Student Profiles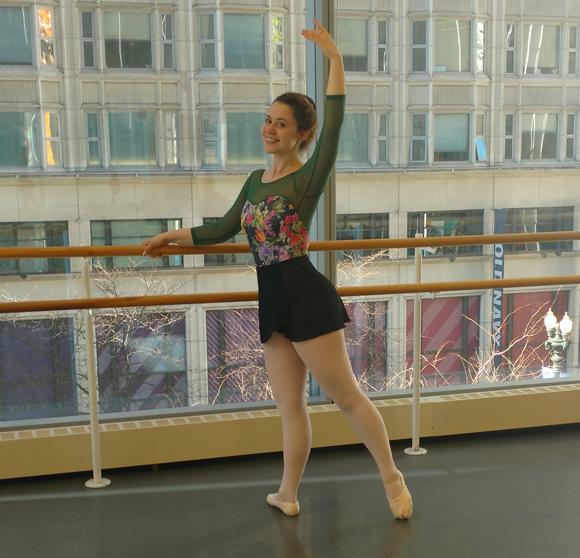 Kate Ortigara
Major(s):
Elementary Education, K-6
English Writing
"Without the opportunity to take class at Saint Mary's, I never would have known this joy that dancing brings me."
At the young age of 5, Kate Ortigara '10 took lessons...for 2 months. She even tried figure skating (also for just 2 months.) But none of them took, that is, until she came to Saint Mary's.
In her sophomore year, Kate signed up for Ballet Technique and immediately fell in love. For her, it became an incredible stress reliever when other classes were hard and required heavy reading and studying. "It was relaxing but also requires you to use your brain in a different way" Kate reflects.
More than just dance
Recalling how instructor Laurie Lowry would exclaim "Girls, our buns are getting sloppy!" Kate adds, "I really appreciated how the classes were taught. We learned a lot about ballet etiquette and the important traditions of the art. We even learned how to make the perfect ballet bun!"
Over the years, Kate went on to take Beginning Ballet Technique twice and then moved on to the intermediate level which helped her excel in her second revitalized passion, figure skating. Joining the Notre Dame Figure Skating Club, Kate was able to utilize the poise, balance, and conditioning that her dance classes were providing in a whole new way.
"It's never too late"
As a paralegal now working in Chicago, Kate offers this advice to students. "College is a great time to explore and try new things because there is so much available. You never know what might turn into a life-long hobby or even a job opportunity and most of all it's never too late."
Three years after graduation, she started her first pointe classes and is still taking dance classes weekly in Chicago. "I'm thankful for Saint Mary's giving me a great foundation in ballet and making me feel confident to go out and take classes in the 'real world.' Without [it], I never would have known this joy that dancing brings me."