Molly Gahagan
Alumnae Profiles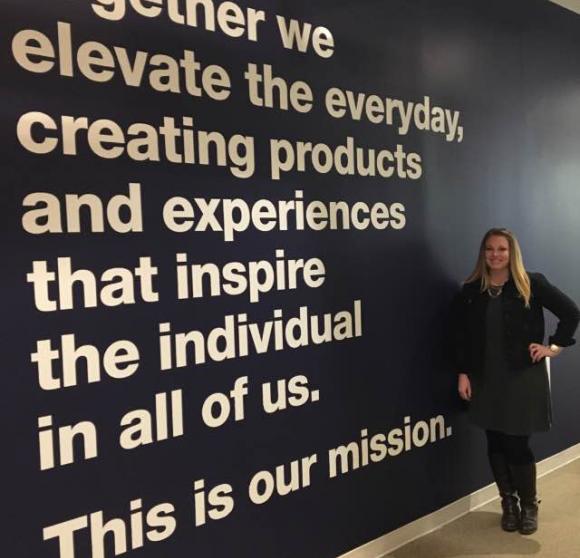 Molly Gahagan
Minor(s):
Public Relations/Advertising
"WITH A LIBERAL ARTS EDUCATION, YOU'RE NOT LIMITED TO WHAT YOU CAN DO."
Molly Gahagan '11 has pride in the fact that she's Saint Mary's alumna. She credits the College for allowing her to discover herself through a liberal arts education.
"Not only is the education at Saint Mary's diverse, covering many different areas, the biggest thing you learn is exactly what the College promises you on the first day of orientation, the discovery of yourself."
The Saint Mary's experience also gave her the confidence to accomplish some lofty career goals. Five years out, she has earned a degree from The Fashion Institute of Technology in New York City and works as a Merchandise Assistant in Adult Accessories for Gap Brand at Gap, Inc. Working for the fashion corporation is a dream come true for Molly. She fell in love with the brand while working at Gap retail stores while in high school and college.
Learning for a Lifetime of Endless Opportunities  
Upon entering the workforce after graduation, Molly quickly realized the value of a liberal arts education. Her comprehensive education gave her the skills she needed to succeed in the workplace and thrive in the world post-College.
"Saint Mary's gave me such a well-rounded education. I didn't know what I wanted to do when I arrived on campus. Majoring in communication studies allowed me to learn everything from brand promotion to advertising, which made me a more well-rounded candidate when it came to applying for jobs."
"With a liberal arts education, you're not limited to what you can do. I went into the fashion industry, but I could've jumped into a handful of other industries as well."
Living Life to Its Fullest 
Looking back at her four years at Saint Mary's College, she relishes more than the education, she treasures the friendships.
"My friends are irreplaceable and even though distance separates us now, we are closer than ever. They are truly my family, my sisters."
Molly says all her experiences at Saint Mary's allowed her to enjoy every moment and lead the life she wants to live.
"From my semester abroad in Rome to my senior comp, there was no experience that I did not learn immensely from at Saint Mary's."
Written by media relations intern Theresa Wojnar '17, a communication studies major with a minor in advertising and public relations.