Student Profiles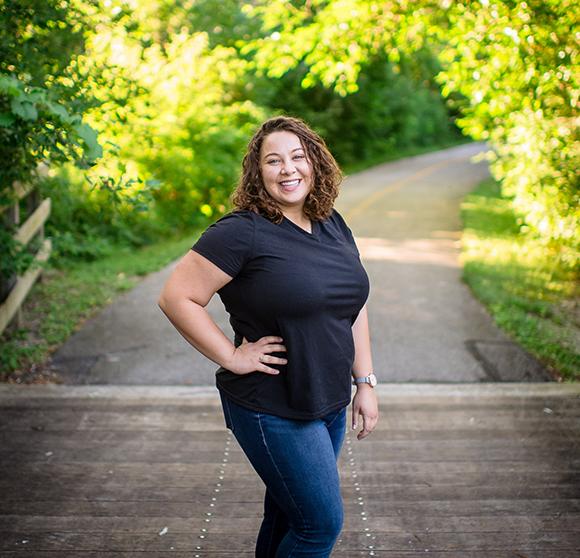 "Ultimately, your growth here is all yours—and what a gift that is!"
Coming to Saint Mary's, Kathleen Melei '18 knew she wanted to help and heal others. While certain that occupational therapy was the best way for her to do this, she was not sure which major to choose. She started out taking classes in biology, knowing that she wanted to specifically help those with injuries or disabilities. After taking some psychology courses, however, Kathleen felt that she had found the right major for her goals and made the switch.
Embracing a holistic approach
The idea of holistic approaches to the human person is what brought Kathleen to choose psychology as her major. "Psychology exposed me to research, person-centered care, psychosocial understanding, and my own self-awareness," Kathleen said. She felt confident that psychology was the perfect major to help her to pursue a career as an occupational therapist.
Kathleen believes that occupational therapists are healers who find solutions by analyzing the social and emotional aspects of a person, along with the physical. Psychology gave her a  holistic approach to working with people, which was perfect preparation for her future career.
Differing from the rest
All psychology majors are required to complete a senior comprehensive, which consists of either writing a literature review or conducting independent research. Kathleen chose to conduct her own research that investigated the interaction between prospective memory and emotion in older adults. Her research sought to find a connection between remembering to perform a planned action and emotions in older adults. This has prepared her to explore the unknown and provide better care in the future.
Preparation for a lifetime
Kathleen will be attending Huntington University in Fort Wayne, Indiana in the fall of 2018 to pursue her Doctorate of Occupational Therapy, and the lessons she has learned at Saint Mary's will accompany her for life. The community and values at Saint Mary's affirmed her internal desire to help others, both in and out of the classroom.
The notion of discovery promised when she began her four years has become a part of Kathleen. "Saint Mary's didn't provide me with discovery; rather, it helped me develop a passion for discovery. True discovery is a never-ending process. Ultimately, your growth here is all yours—and what a gift that is!"
Written by Elizabeth Kochniarczyk '19, media relations intern and communication studies major.