Kayla Gaughan
Student Profiles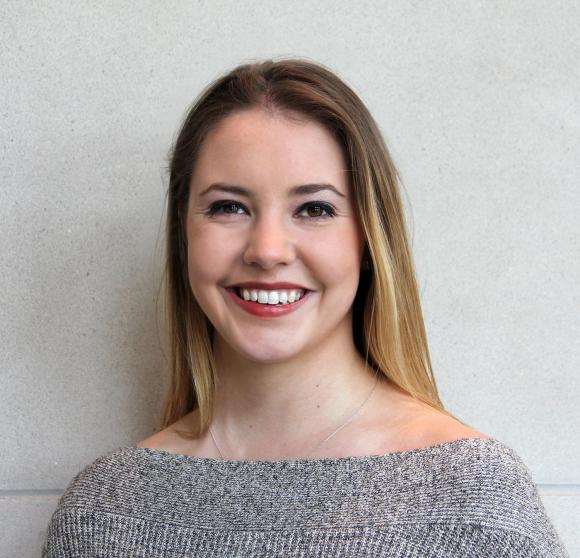 Kayla Gaughan
Major(s):
Gender and Women's Studies
Political Science
"Saint Mary's emphasizes women's voices in all classes."
Kayla Gaughan '17 discovered Saint Mary's through her aunt, an alumna. Her personalized acceptance letter sealed the deal. "I had visited in the summer and the campus was beautiful, then I got the letter and was sold."
Little did she know the decision to attend Saint Mary's would bring her back home to Washington D.C. to work for former Vice President Joe Biden.
Discovering her passion
Kayla's first year she thought she would major in social work, but in her introductory courses she realized her interests were in policy.
She chose to study political science and added another major in gender and women's studies.
"Saint Mary's emphasizes women's voices in all classes."
Inspired by the powerful women she was learning about in her classes, Kayla involved with the Belles Against Violence Office (BAVO), which helps to coordinate on-campus programming and awareness about sexual assault.
She became passionate about BAVO's purpose and looked for ways to raise awareness about sexual assault on other campuses. She learned about the national "It's on Us" campaign and applied to serve on its student advisory committee. She was chosen to represent Region 4, which includes Indiana and parts of Michigan and Illinois. In this role, she connects students at colleges and universities within the region to resources available through "It's on Us."
Learning in the White House
Her experience at Saint Mary's helped her land an internship in the White House last spring.
"Saint Mary's teaches students how to be professional and develops writing skills through coursework. I learned to put that professionalism and confidence into practice."
She served as the scheduling intern for then-Vice President Joe Biden. That opportunity allowed her to draft his schedule, plan events, and writing briefing documents.
The internship extended to the summer, where she worked as an advance associate in the Biden's office doing some of the "It's on Us" work, even appearing as an extra in a public service announcement.
Although Kayla's dream job is to be involved in policy making, she knows she needs to listen to the needs of the people before she can make effective policy.
"It's easiest to create policy on issues you're passionate about, but sometimes that means that the passion takes over the rational side. At this time in our country, it's important to understand Title IX policy and how we create a solution."
Although she's not sure exactly what she'll be doing after graduation in May, she knows how she wants to use her Saint Mary's education.
"I want to work in a role that allows me to advocate for a group that is marginalized and affected by policy. "