Kellie Krohn
Student Profiles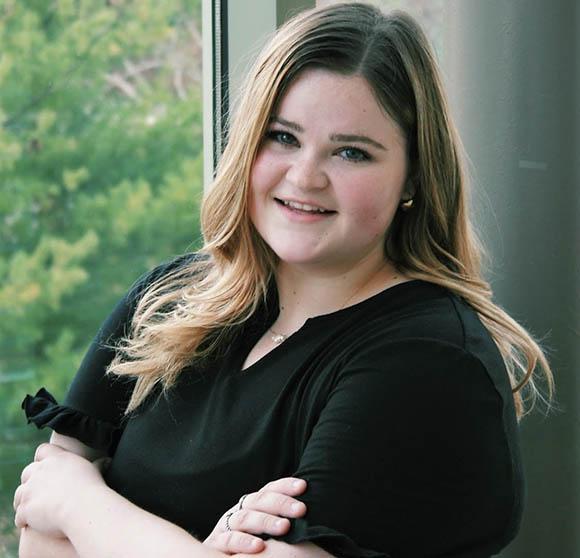 Kellie Krohn
Major(s):
Biology - Cellular/Molecular*
"Saint Mary's is an invaluable place where you cannot only grow in mind, but in heart and spirit, and a place where you develop relationships that will last a lifetime."
As Kellie Krohn '23 thought about where to attend college to begin her professional career, Saint Mary's was never on her college radar. However, during her junior year of high school one of her close friend's mothers began introducing Kellie to the idea of potentially attending Saint Mary's. After receiving so much information about the school Kellie decided to tour the campus in order to keep her college options open. 
"I loved that the school was a small campus and a catholic institution so I thought I would give it a try." 
"When I was physically on campus during my first visit, it wasn't even the beautiful buildings that were capturing, but easily the community on campus. There were so many students who stopped in the business of their day to talk with me about Saint Mary's. I could not only hear how authentic their words were, but I could tell they were being authentic just in the way that they held themselves at Saint Mary's. I could just tell it was a special place" 
Experiencing the World 
Although going to new places, especially outside of the United States, can be a little overwhelming it did not stop Kellie from wanting to experience a whole new culture. Kellie was given the opportunity to study abroad in Rome during her third year, an opportunity with unforgettable memories and appreciations. 
"Going abroad has been such a special experience. I didn't think I was going to be able to go abroad being a premed student, but the faculty here at Saint Mary's helped make it possible for me. They worked with me to adjust my class schedule and college timeline which was incredibly helpful," she said. 
"It was such an amazing experience. Italian culture is extremely special and so unique. Being given the opportunity to learn and live among another culture is extraordinary! I am beyond grateful that Saint Mary's helps students by providing them the opportunity to immerse themselves within another culture and appreciate the world." 
Growing in Mind and Faith
At Saint Mary's students have the ability to enhance both their college experience and faith which is something Kellie knew she would not receive at other universities. From her involvement in Fiat club and Friends with Sisters, Kellie has significantly grown her relationship with her faith. 
"Understanding the community of the sisters has been a highlight of attending Saint Mary's because it is a beautiful thing to learn about their legacy. Being able to volunteer for the sisters and having a sister throughout the 4 years of college is probably one of the things most special I will take from Saint Mary's. We have the sisters to thank for giving us Saint Mary's." 
"My faith is very important to me and being able to attend a school surrounded by a community of faithful women is remarkably special. At Saint Mary's you're not only growing in your own faith, but growing in faith with your community of sisters. To be able to have my faith grow alongside my academics is such a unique aspect of the campus and I would not trade anything for it."