Louise Chetcuti
Student Profiles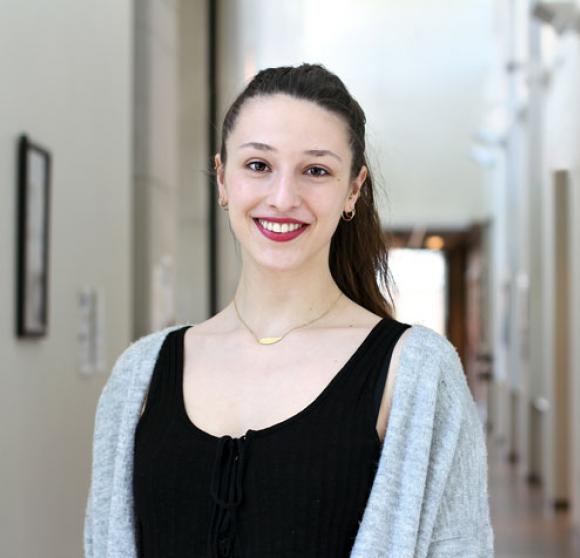 Louise Chetcuti
Major(s):
Global Studies - Global Business Administration*
Spanish
"I realized how I could use my education to become a catalyst for global change."
A native of Strasbourg, France, Louise Chetcuti '18 was drawn to Saint Mary's due to her family's background with the South Bend campus communities. "My Dad used to teach at the University of Notre Dame, and I was originally born here in South Bend. Through him I knew the academic excellence of the school," she said.
As she finishes up her academic career at Saint Mary's and reflects on the past four years, she shared, "At first I felt out of place being one of the few international students on campus. However, during my time at Saint Mary's the professors and the academic environment fostered tremendous opportunities. Such as, enabling me to study abroad twice, and enroll in classes at the University of Notre Dame."
Choosing her path
Louise's international background lead her to become a global studies and Spanish double major, and minor in business administration. As for her global studies major she stated, "I've always been interested in international affairs and given my international background it aligned pretty well. I also liked how the major mixed different subjects: history, political science, and anthropology. I was also drawn to the mandatory study abroad." This requirement aligned well with her decision to double major in Spanish as well.
Louise has always been drawn to the language and Latin cultures which lead her to study abroad in two Spanish speaking countries. During her time at Saint Mary's she studied abroad twice in Seville, Spain (spring 2016) and Argentina (spring 2017). "I was able to discover my purpose as a citizen of the world, and I realized how I could use my education to become a catalyst for global change," she said.
Forging forward
Louise will graduate later this month and has been accepted to the prestigious Fulbright Scholarship program, where she will be teaching English as a second language in Colombia from July 2018 – May 2019. Upon her return to France, she will begin her graduate studies to obtain a master's degree in international development at Sciences Po in Paris.
Written by Caitlin Blum '18, media relations intern and business administration major with a concentration in marketing.