Student Profiles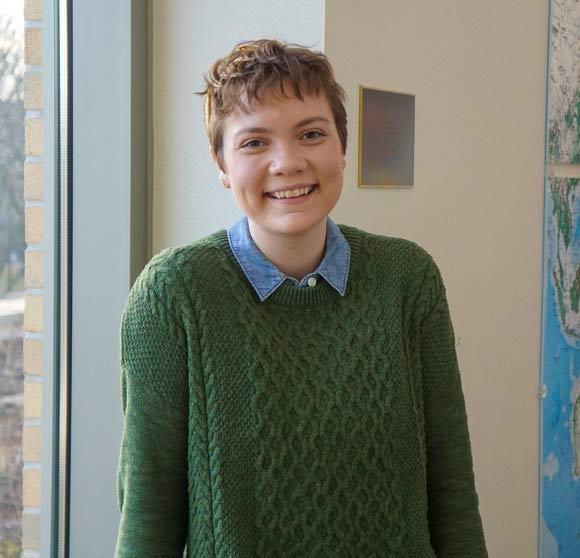 Rebecca Strom
Major(s):
English Writing
Humanistic Studies
"All the experiences I've had at Saint Mary's have made me a much more confident person."
Rebecca Strom '20 is thoughtful and deliberate, which is why she took the time to contemplate which college she would attend after graduating from high school. She knew she didn't want to be just another face in the crowd. 
"I wanted to be a part of a community," Rebecca said, which is what eventually led her to choosing to attend Saint Mary's. 
As a first year, Rebecca didn't know many students at the College, but that all changed when she started to get involved with the Saint Mary's communication studies, dance, and theatre department. 
"I got involved in theater my first semester and I met some really amazing people who have become some of my best friends," she said. "They make it feel like home on campus and I'm glad I was able to find community on campus and in the theater."
Saint Mary's has also given Rebecca the confidence to pursue her passions, both in theatre and writing. Rebecca is a double major in English writing and humanistic studies, with a minor in performance based theatre, and she said she's lucky to have been able to do so much with what she's passionate about.
Finding a confident voice
"All the experiences I've had at Saint Mary's have made me a much more confident person. I came in not knowing what I wanted to do, but four years later I've become a much more confident writer because I know the Saint Mary's community is going to support me."  
This confidence in her writing abilities has sprung from the emphasis that Saint Mary's places upon empowering women's voices. The English writing department focuses on encouraging women to use their creative abilities to tell their unique story while inspiring them to do so by bringing a series of published, visiting writers to campus each semester. 
"Saint Mary's places so much value on women's voices and the power of women's stories," Rebecca said. "In my writing workshops, so much importance is placed on honing your voice — not just the craft of writing but finding who you are as a writer and what matters to you."
Saint Mary's also employs many successful writers to teach at the College, including assistant professor and poet Rebecca Lehmann who recently published her second short collection of poems about womanhood and motherhood in the current political climate.
Following her passions
All in all, Rebecca feels that Saint Mary's has prepared her to take on the world outside of campus. Although this may seem challenging, Rebecca's optimistic that students should always chase their dreams and keep their minds, and hearts, open.
"There's a lot of ways that our graduates have forged their own paths and they've done so much with their English major, so I really want to make sure that students know that there are so many options available to all of us, not just STEM or business," she said. "You have to follow your passions and make those passions fit in with your professional goals and the jobs that are available, because that's the only way you're ever going to be happy." 
With Commencement 2020 just around the corner, Rebecca shares with us that she has recently accepted a grad school offer. She will be attending University of Illinois Ubana-Champaign where she is focused on earning a masters in library and information science with an emphasis in youth services.