Liza Felix
Student Profiles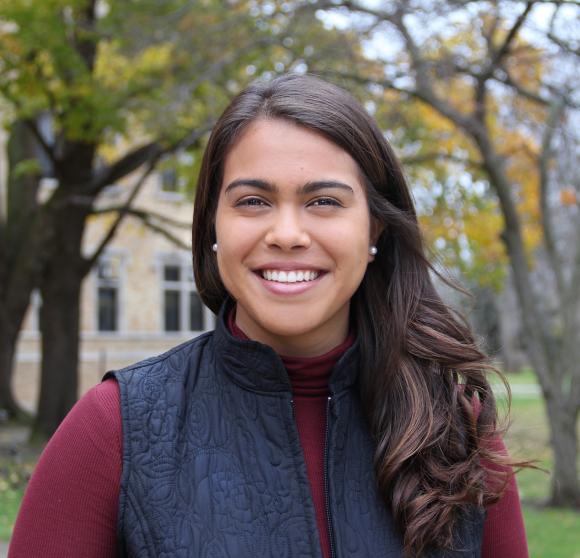 "IT WAS IN SPAIN THAT I REALIZED GOD PUTS YOU IN THE PLACE YOU NEED TO BE."
A California native, Liza Felix has fallen in love with the Midwest. She chose Saint Mary's for the faith-based education and small size.
"I knew I wanted that one-on-one interaction with professors. That's how I learn best."
Once enrolled at Saint Mary's, she had the opportunity to try out for the soccer team, and made it.
"In Division III, athletes really play for the love of the sport and the love of the team. There is a sense of pride going through the gates of the new athletic fields that we're playing to represent Saint Mary's, a school we love."
Discovering her place while abroad
Sophomore year Liza studied abroad in Seville, Spain where she was able to complete a lot of coursework for her Spanish major. She is also majoring in social work.
"I was so excited to learn about a different culture. Studying abroad was very formative and the courses were rigorous, but I got to do so many cool things."
In Seville, Liza tutored a Spanish family in English, participated in the Easter Sunday Mass as a lector at a local church, and grew in her faith.
"It was in Spain that I realized God puts you in the place you need to be.  And I've learned to let go and let God be in control."
Cultivating a passion for care
As an incoming first-year student, Liza thought she would major in political science, but the Sophia Program exposed her to take a wide variety of classes. Introduction to Social Work was one of those courses and social work professor Frances Kominkiewicz or "Dr. K." was her advisor.
"I loved learning about social work from Dr. K. and I'm grateful that the Sophia Program allowed me to explore my passion of caring for others."
Liza spent the summer before her senior year in Utah working at Holy Cross Ministries with the Sisters of the Holy Cross. Her time was devoted to children and the elderly. Her passion for working with the elderly blossomed while shadowing hospice care.
Liza is currently pursuing a Master's of Social Work at Grand Valley State University in their advanced standing program.