Rachel Bonek
Student Profiles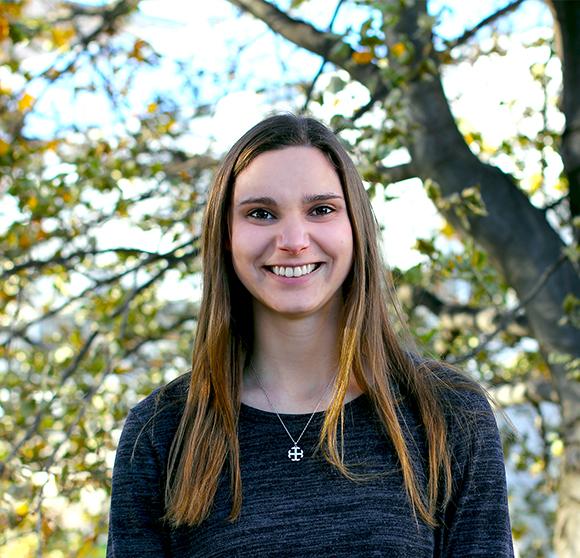 Rachel Bonek
Major(s):
Engineering (Dual Degree)**
Physics and Applied Mathematics
"Saint Mary's is a great place to find yourself and grow."
Being an athlete for almost her entire life, Rachel Bonek '18 wanted to find a college that would allow her to continue playing volleyball. She expressed to her high school volleyball coach, an alumna of Saint Mary's, her desire to continue playing the sport, but also pursue her interest in math.
"My coach thought Saint Mary's would be the perfect fit for me, and she was right! As soon as I visited campus, I never considered any other school. I knew I was meant to come here. Saint Mary's provided everything I was looking for in a college."
Finding new opportunities
Rachel knew she wanted to major in math before she started college because it was something she enjoyed and able to naturally grasp. When looking at what Saint Mary's could offer her, she came across the Five-Year Dual Degree Engineering Program with the University of Notre Dame.
"Saint Mary's has led me to realize I really enjoy the application of math, which is why I decided to do the dual engineering program with Notre Dame. I will graduate from Saint Mary's with a physics and applied mathematics (PAM) degree in May of 2018, and then I will receive my engineering degree the following year from Notre Dame."
Finding herself
Rachel believes Saint Mary's a unique place because of the amount of support she receives from not only her professors, but also her fellow Belles.
"You're surrounded by women who would also like to see you succeed and help you along the way. The atmosphere is great, the professors are wonderful, and I love the small school environment. The college really gives you so many options and you can do whatever you put your mind to here."
During her time at Saint Mary's, Rachel has been able to recognize her own growth. This growth has not only helped her inside the classroom, but outside the classroom as well.
"Saint Mary's is a great place to find yourself and grow. Since being at Saint Mary's, I have become much more confident in myself and more comfortable with the person I am. I feel like it is okay to speak up in a room filled with people and share my own thoughts."
Written by Lauren Caracciolo '18, media relations intern and communication studies major.