Kelly Vaughan
Student Profiles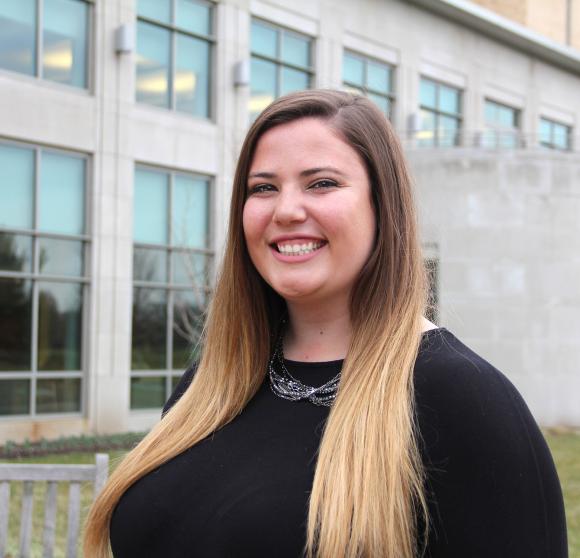 Kelly Vaughan
Minor(s):
Gender and Women's Studies
"Saint Mary's has given me the confidence to pursue my dreams."
Kelly Vaughan '17 attended Fine Arts Camp at Saint Mary's as a kid and loved the empowering, all-girls environment of the weeklong overnight camp. Returning for a campus visit as a high school student, she felt just as welcomed. "When I visited I got this glimpse of the community and I knew that this place would support me and help me grow," Kelly said.
Developing an understanding of herself
Unsure what she would major in, Kelly dived into a variety of classes, part of the Sophia Program. "I thought maybe religious studies, but when I took Intro to psychology I wanted to learn more."
The desire to learn propelled Kelly to explore a broad range of topics in psychology including research methods, abnormal psychology, neuroscience, and statistics. She developed a particular interest in social psychology and how psychology relates to business.  Her senior comprehensive project analyzed leadership in the workplace. She evaluated feminine and masculine leadership styles as a way of understanding how social norms and perceptions impact one's experience in the office. Kelly knows her psychology courses have prepared her well to enter the business world. "I've developed strong communication skills that provide me with a different understanding of the business side." Her experience is varied. She worked for Target in Chicago as an Executive Team Lead intern and in South Bend at the Family Justice Center in advocacy.
Leading her dreams
While at Saint Mary's, Kelly has worked as a photographer for the student newspaper, The Observer, and found a passion for taking photos while indulging her love of music. Kelly is not sure where she will end up after graduation, but she has big dreams of becoming a concert photographer when not in the office. "Saint Mary's has given me the confidence to pursue my dreams."