Shelby Knop
Student Profiles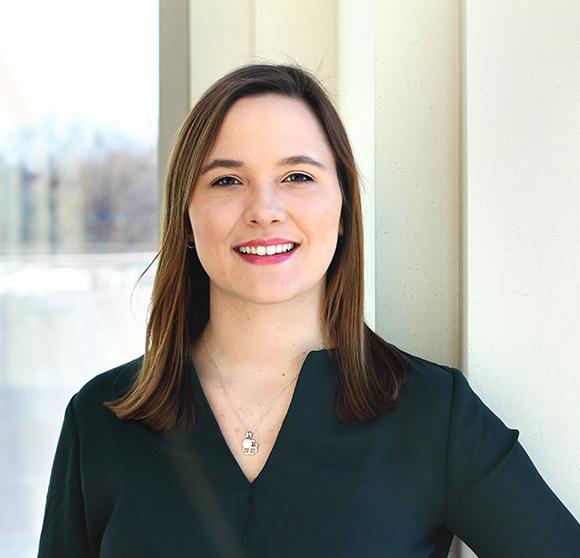 Shelby Knop
Major(s):
Global Studies - Global Economics*
Political Science
"Study something you love so you'll have the motivation to find a career in that area."
Shelby Knop '19 narrowed down her college choices to two schools, a large public university and Saint Mary's College. The chance to have one-on-one interaction with her professors helped her decide Saint Mary's was the right fit for her.
"The biggest thing for me was class size. At a larger university, I wouldn't have had as much contact with professors. At Saint Mary's, I've had a classes with four other students, which I loved because there is so much discussion and interaction with the other students and the professor."
Exploring her interests
Having participated in Model UN in high school, Shelby's interest in politics led her to pursue a major in political science. Her interest in international affairs and the chance to study abroad lead her to double major in global studies.
"Being a double major, I see so many connections between the subjects. You get a well-rounded education that allows you to pull from different subjects and add so much to the class that you're in."
Taking the pre-law path
During Shelby's second year, she studied abroad in Rome, where she took a course that helped her decide to pursue a pre-law track. Studying international public law not only showed her the influence lawyers have in shaping laws and policies, but also the knowledge and global perspective she could gain by studying international law in particular.
"The course was really empowering and influential for me because I saw how much impact lawyers can have on the world around them."
At Saint Mary's, Shelby has received guidance from her professors and peers about how to get into law school. After taking an American law class with Professor Sean Savage, she discussed her options with him, and also sought advice from graduating seniors who had been accepted to law school.
Learning lessons for life
Despite the challenging coursework, Shelby enjoys writing and reading. She says one of the biggest lessons she has learned at Saint Mary's is that course work isn't as tedious when it's a subject she is passionate about.
Though some might find reading about the functions of Congress boring, Shelby is excited to take the knowledge she has gained in the classroom to a career in law.
Her advice? "Study something you love so you'll have the motivation to find a career in that area."
Written by Susan Kratzer '18 media relations intern and double major in political science and English writing.