Benefits of a Womens' College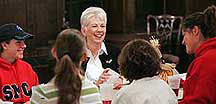 Women's colleges not only offer excellent academic programs, they foster a positive learning environment. Immersed in this supportive culture, many women's college students confirm the resulting confidence and leadership skills pay off immediately: Students are taken more seriously in the classroom and feel more inclined to participate in class discussions. And those skills graduate with you. Nine out of 10 women's college graduates give their colleges high marks for fostering self-confidence. 

According to studies gathered by the Women's College Coalition, women's college students:
Score higher on standardized achievement tests and participate more fully in and out of class.
Report greater satisfaction than their coed counterparts with their college experience in almost all measures—academically, developmentally, and personally.
Develop measurably higher levels of self-esteem than other achieving women in coeducational institutions. (After two years in coeducational institutions, women have been shown to have lower levels of self-esteem than when they entered college.)
Hold all college club/activity/board leadership positions and observe women functioning in top jobs (90 percent of the presidents and 55 percent of the faculty are women).
Tend to choose traditionally male disciplines, like the sciences, as their academic majors, in greater numbers, and continue toward doctorates in math, science, and engineering in disproportionately large numbers.
93 percent of Saint Mary's graduates earn a degree within four years, and we offer the Four Year Graduation Promise.


Are more successful in careers; that is, they tend to hold higher positions, are happier, and earn more money.


Represent 33 percent of the women board members of Fortune 1000 companies and 30 percent of a recent Business Week list of rising women stars in Corporate America.


Constitute more than 20 percent of the women in Congress (including four U.S. Representatives from Saint Mary's College).


Were 20 percent of women identified by Black Enterprise Magazine as the 20 most powerful African-American women in corporate America.


Tend to be more involved in philanthropic activities after college.
It's difficult to say who is "right" for women's colleges and who isn't. Just about everyone can benefit from the supportive atmosphere they provide. In the end, it's largely a matter of personal preference.


Alumnae of women's colleges:
81 percent of women's college grads say their college was extremely or very effective in preparing them for their first job versus 65 percent of public university grads.
Nearly three-quarters of women's college graduates are in the work force. 
Nearly half of the graduates have earned advanced degrees, and 81 percent have continued their education beyond college.
More than three-quarters of women's college graduates continue their involvement with their alma mater as trustees, mentors, class agents, intern employers, recruiters. 
Almost half of women's college alumnae hold traditionally male-dominated jobs at the higher end of the pay scale such as lawyer, physician or manager.

Quotes from the Experts
"My research findings, based on the national data, suggest that women's colleges are better than coeducational institutions in promoting women's intellectual and social self-confidence, academic ability and cultural awareness."

Mikyong Minsun Kim, assistant professor, University of Missouri-Columbia


"Intellectual support seems to prevail in the classrooms of all-women's colleges. As a result, women at these schools are more likely to take risks, to put themselves forward verbally, to assume leadership roles, both while in college and after graduation."
Reported by The Oregonian

"Single-sex colleges show a pattern of effects...that is almost uniformly positive... Women's colleges increase the chances that women will obtain positions of leadership, complete the baccalaureate degree, and aspire to higher degrees."

Alexander Astin, in his important analysis of college environments,
Four Critical Years


"Young women are there [at women's colleges] to learn and to think about who and what they can contribute in an environment more free of gendered expectations. Older women who come back to college return with lives already shaped by these expectations...It's a situation of unusual freedom...to explore and to examine again their own sense of self. It can be, and often is an exhilarating experience."
Ellen Fitzpatrick, professor, University of New Hampshire


"While they are still in their formative years, young women [at women's colleges] spend those four or five years in an environment that fuels them with sufficient self-confidence to last for the rest of their lives. In whatever they do, they are strong, self-sufficient, well-adjusted people."
James L. Fisher, former president of Towson State University

"A women's college can help you grow in ways that a co-ed school can't. They help you become aware of what it means to be a woman in today's world."


Excerpted from an article on FastWeb.com and data from the
Women's College Coalition.