Fashion Camp
Design — Draw — Sew!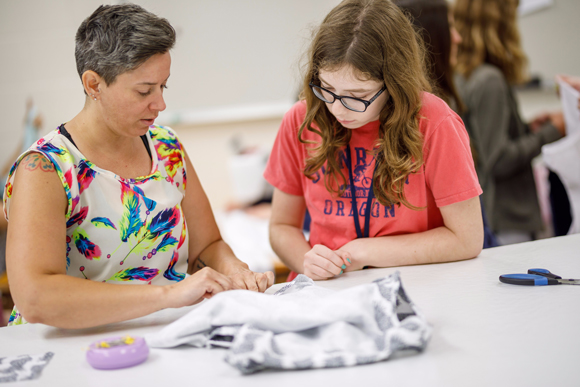 Fashion campers will master the basic principles of fashion design and construction. Each camper will explore figure drawing and fabric rendering skills, while learning beading, ruffling, or embroidery. Professional instructors collaborate with and challenge our campers to find their voice and style in every creation. Fashion campers create their own article of clothing, which they present to family and friends in our summer camp fashion show, Friday afternoon!
Overnight camp is a great opportunity for young women to experience what it's like to be on a college campus, under the protection of highly trained instructors and staff. With a summer camp field trip and special events in the evenings, your camper is sure to have a blast!
Join us for overnight camp!
Dates: July 12–17
Ages: Girls entering grades 8–12
Deadline: June 12
Camp Cost: $615*
*Save $50 when you register by April 30!
Questions?
We know how important choosing a summer camp is for you and your daughter. Because of this we are happy to answer any questions that you have! You can also find general camp information below.
Call: (574) 284-4778
Email: camps@saintmarys.edu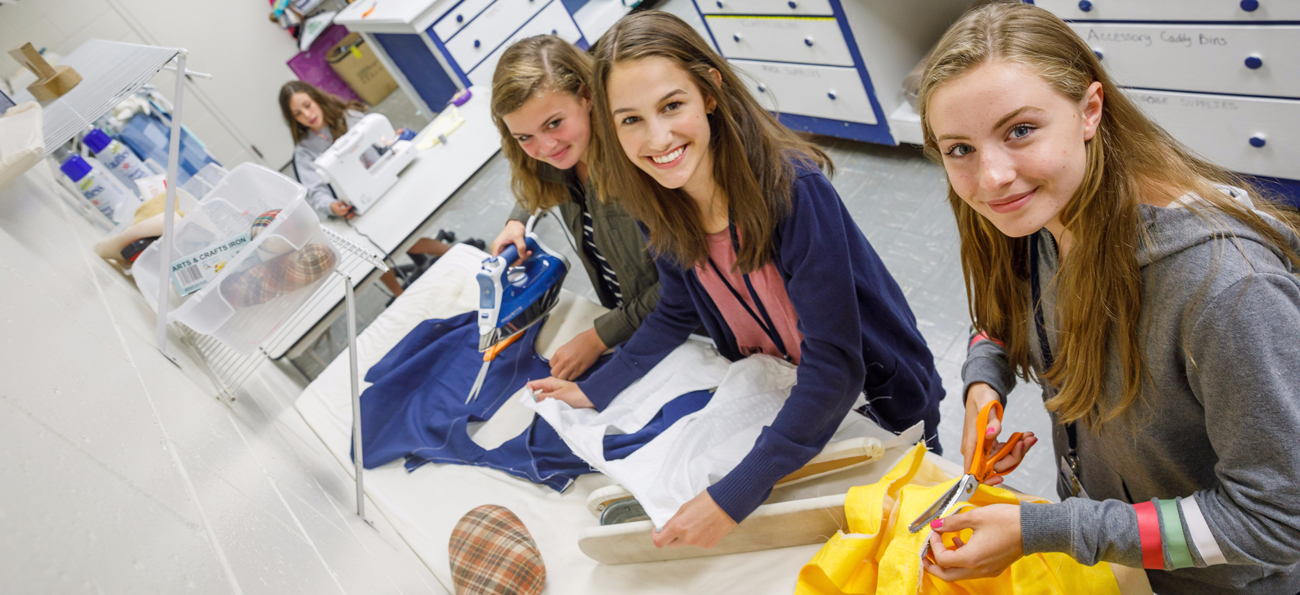 Meet Our Faculty
Fashion Camp Director

Hello, Fashion Campers! My name is Meghan Barnauskas, and I am thrilled to be returning as the director for camps this year! This is my third summer as the director and ninth working for camp. Having worked as a counselor, the creative writing instructor, the night supervisor, and the director, I can say that Saint Mary's Summer Camps are the best place to spend your summer! I graduated from Saint Mary's College in 2014 with majors in elementary education as well as a minor in Spanish, and I also earned a master's degree in mathematics education from Ball State University in 2019. I currently live in Livonia, Michigan, and I love my job teaching seventh and eighth grade math! I cannot wait for the summer to arrive and to meet you all in July!
Fashion Camp Instructor
Melissa Bialko is thrilled to be teaching Fashion Academy for her fourth year. She is looking forward to instilling a skillset and confidence in the young designer-stitchers that attend the camp. Melissa is a professor at SMC, and teaches design for the theatre. She is a graduate of the Ashland and Ohio State Universities, and is happy to be teaching costume design for her seventeenth year at Saint Mary's College. Melissa is also a proud member of IATSE Local 187. In her spare time, Melissa enjoys volunteering at The History Museum, in the historic costume collection.
Meet Our Counselors
Sydney Bleich

Hi campers! My name is Sydney Bleich, and I am going to be a Junior this fall at Saint Mary's College. I am majoring in Criminology with minors in both Spanish and Computer Science. I am involved in the Notre Dame Robotic Football and Lego club. I grew up in the Grand Haven, Michigan area with my three siblings. In my free time I enjoy riding my horse, teaching my cats new tricks, traveling all over the United States with my animals, hammocking, shopping, and finding things that sparkle! I am so excited to be a counselor this summer because I was a camper for a few years at summer camp. I am so excited to meet all of you!