Peer Ministry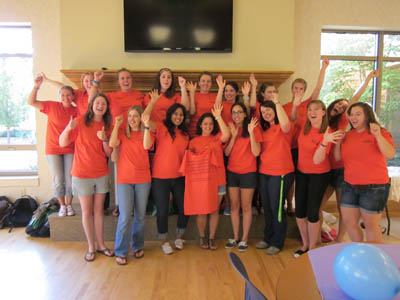 The Peer Ministry program prepares students for leadership roles grounded in their baptismal call to serve. The program engages students in theological reflection and nurtures building faith communities through liturgical ministry, retreats, small faith groups, group prayer, Bible Study and Christian initiation. Peer Ministers are accepted into the program and commissioned in the spring for the next academic year.
Peer Ministers 2013/2014

Olivia Beck

Megan Michalski

Kaleigh Ellis

Kristen Millar

Olivia Ely

Kimberly Orlando

Rachel Faircloth

Grace Pingel

Stephanie Farah

Bridget Sitko

Julie Galvin

Monica Ulrich

Galicia Guerrero

Grace Urankar

Jessica Jones

Stephanie Villareal

Kaitie Maierhofer

Campus Ministry Interns 2013/2014

Jenna Boyle

Sarah Lipinski

Annamarie Dibley

Emily Krach

Julie Gillespie

Kristen Millar

Kelly Gutrich

Mackenzie Miller

Rachel Huser

Devree Stopczynski

Haley Koth

Krista Ury
"Being a peer minister in the areas of liturgical ministry and retreat ministry has allowed me to take a step back to become closer to God through investigating different areas of faith. This ministry has been very important to me as I continue to pursue my degree in education."