Peer Ministry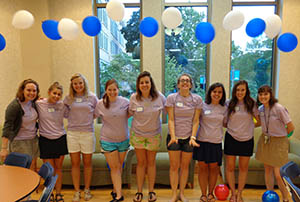 Peer Ministers

The Peer Ministry program prepares students for leadership roles grounded in their baptismal call to serve. Students are invited to engage in peer-to-peer ministry which has as its goal nurturing the Body of Christ on campus. Through informal outreach and conversation, community building in the residence halls and intentional dialogue with their peers about Catholicism, Peer Ministers witness the ways they are called to be Christ in the world by extending hospitality, working together for service, and growing in understanding of the Catholic faith.
Peer Ministers 2014-2015

Olivia Beck

Evelyn Martinez

Kaleigh Ellis

Liz Mason

Olivia Ely

Colleen Michael

Rachel Faircloth

Megan Michalski

Kelly Gutrich

Katelyn Smith

Makena Henell

Jana Zuniga

Campus Ministry Interns 2014-2015

Katherine Alexander

Sarah Lipinski

Annamarie Dibley

Kristen Millar

Breanna Elger

Kathleen Nester

Megan Farabaugh

Rachel Schulte

Kelly Gutrich

Krista Ury

Rachel Huser

Andree Wilson-Nixa

Ministry Assistants 2014-2015


Jenna Boyle
Regina Hall '17

Haleigh Ehmsen
Holy Cross Hall '16

Kaitlyn Maierhofer
McCandless Hall '15

Caroline Rech
Le Mans Hall '16
One student commented, "Through Peer Ministry I have drawn closer to God by realizing the importance of showing love and compassion to the people I serve. Actually conversing and interacting on a deeper level with the people I am serving has deepened my understanding of my faith as well."