Student Ministries
Ministry Assistants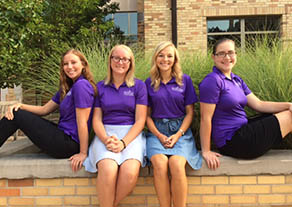 In each residence hall, the Ministry Assistants, in collaboration with Residence Life staff, provide pastoral support, social outreach opportunities, and programs that engage students in theological reflection, prayer and the celebration of the joys and sorrows of daily life. Ministry Assistants are women of faith who seek to bring the love of Christ to students living in the residence halls and call them to share in the joy of community on campus and in the wider community.
Ministry Assistants 2015-2016

Maggie Dewan '17
Regina Hall

Caroline Rech '16
Le Mans Hall

Deirdre O'Leary '16
Holy Cross Hall

Helen Kovach'17
McCandless Hall
One student commented, "Being a Ministry Assistant allows me to grow in my faith, make a positive impact on the community developed in the resident's halls, and serve God through service to residents and members of the South Bend Community."
Campus Ministry Interns
Campus Ministry Interns are employed in the Department of Campus Ministry and collaborate with campus ministers in promoting and supporting the spiritual life of students on campus. Interns are people who have experienced the love of God in Christ Jesus and seek to share that love with other students through accepting people where they are, inviting people to new insights and understanding about their spiritual journey and through offering compassion and support to students in need of welcome. This ministry is accomplished in a variety of ways such as administrative work, leading prayer, facilitating small groups and retreats and through liturgical leadership.
Campus Ministry Interns 2014-2015


Katherine Alexander '15
Annamarie Dibley '15
Breanna Elger '16
Megan Farabaugh '18
Cecilia Greubel '18
Rachel Huser '16

Alli Kenney '16
Kristen Millar '15
Katheen Nester '16
Rachel Schulte '16
Krista Ury '15
Peer Ministers

Peer Ministers are a core group of committed volunteers who seek to offer the face of God's love and compassion through peer-to-peer ministry. Peer Ministers relate to other students on campus through informal conversations, leading prayer, retreats and small groups and meeting and working with their fellow students in the residence halls. They are the listening ears and helping hands that provide a community where all are welcome.

Peer Ministers 2014-2015

Olivia Beck '16
Kaleigh Ellis '17
Olivia Ely '17
Rachel Faircloth '17
Kelly Gutrich '15
Makena Henell '18

Evelyn Martinez '18
Liz Mason '18
Colleen Michael '16
Megan Michalski '17
Katelyn Smith '16
Jana Zuniga '16