Sacramental Preparation
For those interested in becoming Catholic, being confirmed, or who simply have questions about the Catholic faith, there are opportunities for prayer, study and community involvement. For those desiring to continue towards initiation, the Rite of Christian Initiation of Adults (RCIA) is designed to welcome new members into the Church.
Interested in becoming Catholic? For information, contact Judy Fean (see below).
Interested in being confirmed? Preparation sessions are scheduled throughout the year.

Are you a baptized Christian seeking to become Catholic? Sessions are offered throughout the year.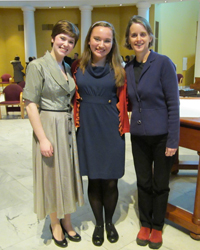 Contact: Regina C. Wilson, 574.284.5382, rwilson@saintmarys.edu