Women's Spirituality Groups
Women's Spirituality Groups are small groups of students who commit to being together for three or four years during their time at Saint Mary's College. Each group meets three times each semester. During the course of their time together they explore issues related to spirituality, sexuality, relationships and vocation through prayer, conversation and in the context of a shared meal. The groups are led by a campus mentor.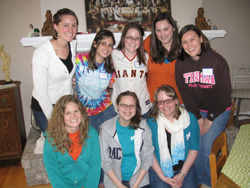 "We explore issues related to faith, sexuality, vocation and being a woman in the Church. There can be a definite struggle between sexuality and spirituality. Having this group was nice to be able to discuss our feelings, struggles and triumphs."
Contact: Regina Wilson, 574.284.5369, rwilson@saintmarys.edu