2021 Lumen Christi Award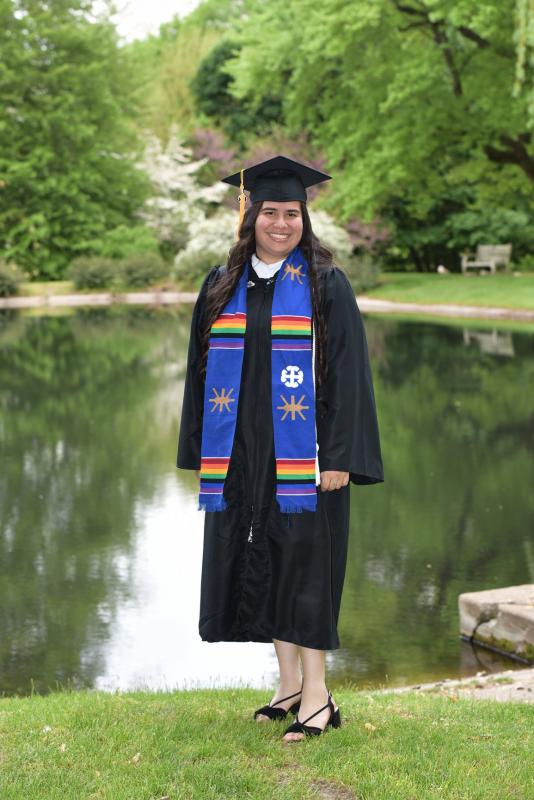 Lumen Christi is Latin for the Light of Christ. The Lumen Christi Award is the highest award that Saint Mary's College confers upon an undergraduate student. It is presented each year to a member of the senior class who is an outstanding person of faith, someone who has excelled in leadership and who has had a deep and good effect on the Saint Mary's community.
Today we honor a senior who we know by her faithfulness, warmth, drive to include, capacity to lead, and joy.
Our recipient practices her love of God by loving that which God loves: creation, including all people. Named a member of the inaugural cohort of Laudato Si' Scholars, she has lived out her commitment  to care for creation. Together with her fellow student-scholars, she has contributed theological perspectives to the College's farm and other sustainability efforts. She is particularly inspired by The Madeleva Manifesto, a declaration written by 15 Madeleva lecturers and offered to women in the church in 2000. Its vision of hope and courage is lived out in many ways by our honoree, including in her work with high school girls at the Embody Summer Theology Institute. 
Our honoree has a radiant capacity to offer her attention to any person before her. She is personal and pastoral. She has offered this care to our community through her work as a liturgical minister, prayer leader, retreat leader, preacher, and Resident Hall Ministry Assistant. She notices when someone is feeling left out, and responds with invitation and inclusion. She is a founding member of the Belles Better Together Interfaith Club, a Campus Ministry liaison to La Fuerza, a leader in Latino Sisters, a member of Belles Connect, a volunteer at the Winter Walk in support of St. Margaret's House, and a key leader of Campus Ministry events including Las Posadas during Advent and Pésame a la Virgen María during Holy Week.
She illuminates a path of faith, hope, and love. 
It is, therefore, an honor and pleasure to acknowledge Jaqueline Rojas to be a Light of Christ and to bestow on her the 2021 Lumen Christi Award.