Friendships
Mary Anne Wessels Brown — Class of 1948
I was at Saint Mary's only two years: 1944–46. My sister died while I was there and I moved back to Fort Wayne closer to home. While at Saint Mary's, I lived with three other girls in 410 and we were each from different states and it was an education for me just to meet and to get to know them and about their lives. I loved it. The second year I lived with two other girls. They were so kind to me. When my sister died and I was called home and several girls offered to go with me as I took the bus to Fort Wayne. I finally graduated from St. Francis College in 1948.
---
Sally Teppert McKendry '58 — Class of 1958
I remember one evening when I returned from a date. I visited the girls across the hall from my room. Jane Eyerley. Mary Ann Grysbek and Diana Wilkenson were there. I was rather loud in my enthusiastic description of the evening. Sister Sophia was checking the hall and heard the loud talk. I was by the door as she opened it. I stood back between the door and the wall. I remember her saying in her deep voice, "Girls, turn off that radio." She closed the door quickly. We all breathed a sigh of relief.
---
Margo Heineman — Class of 1959
Chatting with Colleen Taffee, Jo Cathay, Jeanne Smith, and Rosie Doheny freshman year in Holy Cross and then being part of the great transom slam. It was great fun!!!!
---
Susan F Rice — Class of 1961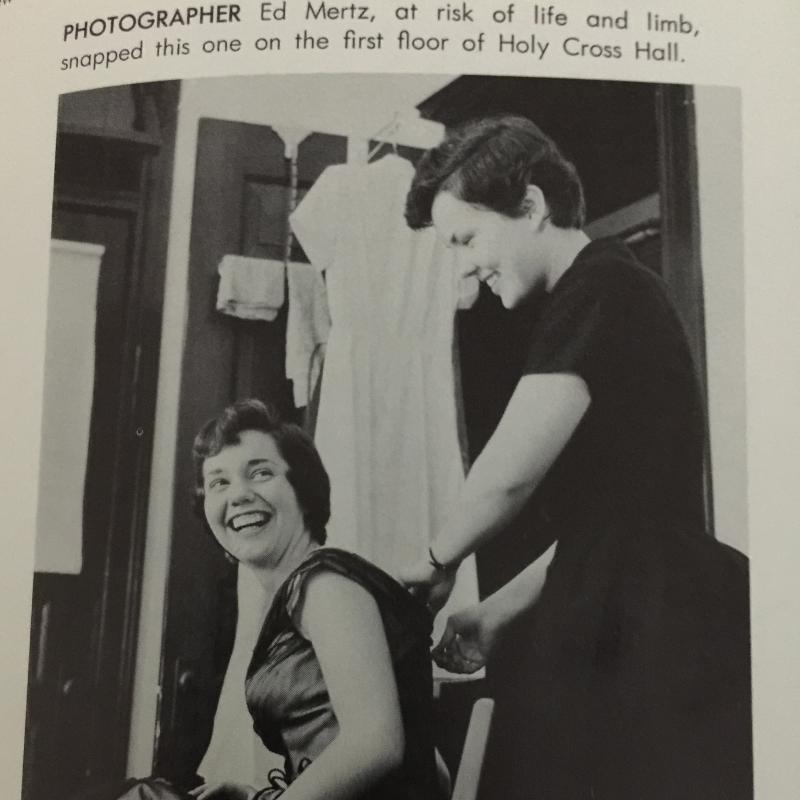 Lots. But this is a submission of a photo from the ND 1959 yearbook not a story. An unusual shot in a Holy Cross bedroom. See caption. (photo is of Mary Cotter Fee and Susan Fitzgerald Rice — both class of 1961.)
---
Donna J. Quinn — Class of 1962
Probably one of my VERY best memories is becoming good friends and still keeping in touch with one of my room mates, Ann. I only attended SMC for a semester before transferring but that time was and still is memorable!
---
Alice M Tsui — Class of 1970
Freshmen year I lived on the second floor of Holy Cross Hall in a Quin with Pat Lyons, Ruthie Dennis, Nancy Nickel, and Christine Kennedy. Coming from Hong Kong, I had never seen snow. I woke up at dawn one morning and the windows and everything outside were white. I opened wide the window and hysterically yelled, "Is that snow ? Everyone come see!" My roommates being from Oneida, New York and Dearborn, Michigan were probably ready to kill me, especially with the sudden gust of chilly wind hitting their beds. But wonderful roommates that they were, they understood my awe and excitement, and actually humored me, before telling me to "shut the window and go back to sleep." 54 years later, I can still visually remember that morning.
---
Gwen Gill Caranchini — Class of 1970
My first day freshman year moving into Holy Cross and meeting my roommate. Amazing experience for a girl from New York!
---
Karen Preston McCarty — Class of 1970
My most favorite year was our junior year. Four of us (myself, Pat O'Hara Gable, Ann Toffanetti Schumacher, and Mary Lou Wylie) got a quint on the third floor of Le Mans overlooking the dining hall. Since our fifth roommate had transferred out, we thought it would be just the four of us but God had other plans. Miss Meredith, one of our dorm mothers, arranged for Edi Hill Gibney to be our fifth roommate as Miss Meredith was good friends with Edi's grandmother when they attended SMC together and she thought we were such sweet girls, it would be a great way for Edi to make friends. It was a match made in heaven and we have all stayed in touch ever since!
---
Lynn M Novotny — Class of 1972
I had my own single room in Holy Cross and loved it. My senior year in McCandless my roommate was the same roommate I had from my junior year abroad program at Loyola University Rome, Italy. We both pined for Rome.
---
Ann Fraser McFaden — Class of 1972
Sophomore year I lived on fifth floor Annex in Le Mans. I had a pair of old fashioned roller skates, the kind you had to clip on your shoes with a big silver key, and decided to roller skate to meet my date on a Saturday evening. (At that time, everyone met their dates in the main lounge and on Saturday nights it was packed!) I put on the skates, and everyone on the floor helped to get me down the flight of stairs to the elevator on the fourth floor. We were laughing all the way. A scout had gone ahead to locate my date so I would not be skating around aimlessly. Once I got out of the elevator, I headed to the lounge. Skating down that long hallway made such a loud rumbling noise that by the time I sailed into the lounge, it sounded like a plane was landing. I spotted my date, headed that way, pirouetted once and thankfully landed in the seat next to him — all to thunderous applause and raucous laughter from everyone there. . .except my date! Needless to say that relationship went nowhere! Thank you fifth floor Annex-ers for a fabulous memory!!
---
Jan Gabler Cranfield — Class of 1974
Meeting the first five (of 10) of what have become lifelong friends,whose names... four of five ... begin with "J"! Plus discovering the ability to tunnel building to building was mind blowing for a kid raised in a city below sea level!
---
Teresa Sarmina — Class of 1974
The most memorable moment in Le Mans was ending up with the most wonderful roommate, Ellen Bradshaw, and other wonderful women, Jan Giordano, Becca Henry, Beth Hall, Kathy Schwille, Mary Maginot, and many more. Ellen's dad got us a shag rug and, by the end of that first year, the shag really camouflaged a lot of grunge on that floor!! I remember scratching my eye by having kept my contact lenses in when pulling an all-nighter, having to go to the hospital and then having to wear a patch for a couple of days. Around that same time there was a song out by that name. Queens Court was certainly a most special place, a very tightly knit group of women.
---
Barbara Gauer Kerwin — Class of 1975
All of us were Freshman on the small fifth floor wing. It was like an instant sorority. "Pulling all-nighters " in the study alcove at the end of the hall. Or sitting on the floor outside our doors to talk.
---
Marianne Rinella Fotopoulos — Class of 1975
Third floor T-wing as a freshman. My twin living five rooms away. Never had been separated until we were freshmen! Discovered with our friends the storage of old church pews in the basement. Several of us carried one up and put it at the end of the hall. A place to talk and laugh and wonder. We spent many hours around that pew !
---
Carolynn Pete Evans Wanner — Class of 1975
Although my roommate, Mary Collins, and I lived in a file closet on the first floor of Holy Cross while sophomores, my freshman and senior years in Augusta Hall were the most memorable. Having 100 overflow merger/non-merger freshman in the former convent and little supervision, there were many antics and good times. But more so, there was such an opportunity to bond as bright women. Coming from many parts of the country, there was lots to learn and share. Many of my second floor, freshman friends are still actively in my life. Memory snippets: Watching the snow fall while sitting in the deep windows, watching crazy panty raids from the same perch. Hearing Cat Stevens and other musicians play the music of our times throughout our floor. Living in one half of the former library with four other women.
---
Barbara Hutter Fett — Class of 1976
It is hard to recall a "moment". Being one of many freshman my first year in Regina, unsure of myself, we all were coming from similar backgrounds, but from a number of different states. There were 12 of us that became fast friends and continue to get together for our own "mini reunions". We are from seven states, and have done this five times , (most recently October 2019) meeting in various locations. We treasure above all else our 47-year friendship that we have been blessed with. (After freshman year one moved back to home town honey, two transferred to Notre Dame, and yet we stay connected)
---
Mary Sheeran — Class of 1976
Visiting friends down the hall, settling down for a gab session, bull session, or TV show. That was great. But there was a darker moment in my sophomore year (the year I transferred). I was really down. I was lonely. I felt inadequate to my dreams, even thinking of ending it all . I felt exhausted and went to sleep. I woke up around 11 and went downstairs to the Stapleton Lounge, where there was an informal Mass, about eight people around a coffee table, and a priest. From there we went on to lasting friendships and great times.
---
Linda Kawecki — Class of 1979
I was in a quint (HC 338) my first year. On the day we all arrived on campus, we ventured to Notre Dame that evening and met a group of guys who would become our friends for the next four years. Later that evening as we were all in bed and the lights were out my roommate, Ann Marie Calacci said "I can't believe I just met you guys today!". Some 44 years later I can still hear her voice in my head. It was true, in less than 24 hours the five of us had become a family. . .and remain one today.
---
Jacqueline Jablonski — Class of 1983
In Le Mans, the most memorable moment was having a party our junior year in our dorm room — it was one of the old classrooms in the annex wing. It was at this party that I introduced my friend, Trisha Sheehan ('83) to a guy John Pearl (ND '83). She was not interested in him that night for whatever reason. With persistence from John and my encouragement, she realized that guy was pretty awesome, and she fell in love and became his wife after college ended. Some of her daughters attended Saint Mary's, and are active members of our military. How awesome is that! I just got to spend the ND/BGSU football game with Trisha and JP, and their love still shines.
---
Susan Brandt Dorst — Class of 1985
Celebrating birthdays cooking in Regina's kitchens. Dressing up for screw your roommates dances. Taking pictures at end of the hall as we met our unknown dates .
---
Denielle Baldwin — Class of 1985
Saint Mary's College not only gave me the opportunity to make new friends, but deepen family bonds. My youngest sister, Deneen Baldwin Bozeman '88), was a freshman at Saint Mary's in Le Mans while I was a senior in Augusta. Our oldest sister, Diane Baldwin Klee '77 married her college sweetheart, Richard F. Klee (ND '74 & '78) and lived in South Bend. Deneen and I spent many fun hours on campus and at Diane and Rick's house watching our nieces and nephews grow up. After graduating SMC, I worked as Events Coordinator for the City of South Bend for five years before returning home to Alaska. More wonderful memories were created during those special years with my oldest and youngest sister Belles!
---
Mary Benway Gregg — Class of 1987
Regina hall freshman year was awesome! We were all in singles and forced to gather in the hallways! We pulled our popcorn poppers out and made tomato soup in our hot pots in the hallway. I made some wonderful friends there!
---
Kathleen — Class of 1988
I still remember our Junior year in Le Mans , sharing a double with my best friend Beth. We had a beautiful Magnolia tree out our window facing the front courtyard. But the best part was our private bathroom, with a BATHTUB!!, that we shared with great friends Meghan and Ann. Music blasting getting ready to go out on a Friday night — the getting ready was the best part.
---
Karen Koehn Deane — Class of 1989
Regina Hall freshman year meeting floor mates in the hallway to chat and pop popcorn.
---
Donna Ryan Coffey — Class of 1990
I transferred second semester Freshman year. We unloaded the car, ran a few errands and when I walked back into the lobby of Regina... there was Tracey Hayes Uruba... an acquaintance from home ❤️ ... and that was that..... we were fast friends and eventually roommates!
---
Erin Ryan Savage — Class of 1993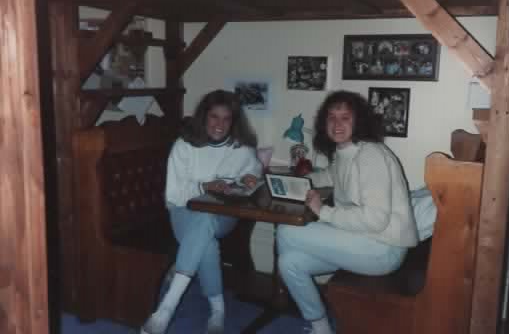 When I went away to college, I brought along a wooden restaurant booth. Formerly part of the dining furniture at the Burger King that I worked at all through high school, the owners allowed me to keep it when they remodeled and replaced the wooden booths with plastic versions. It just so happened that the booth fit perfectly under my wooden loft bed in my dorm room in 3T. When we slid the booth under the loft, it lined up flush to the sides as if it had been made to order. Because of the high ceilings in Holy Cross, I was thrilled that I could use the space under the loft for the booth, and still be able to stand up straight while on top of the lofted bed!
My friends and I enjoyed eating pizza in the booth, and word got out that this was a great setup. The booth became a popular place for other students in the hall to come and eat their pizza. A few times someone I had never met would knock at the door and ask if I would mind if they ate their pizza in 'the booth.' I was always happy to accept one piece of pizza — often offered by visitors as a thank you for using the perfect-pizza-eating space. This arrangement helped me reach the freshman 15 in no time. Of course, I also studied a ton in that cozy spot.
I once met a guy at Notre Dame who asked me if I knew the girl at St. Mary's with the Burger King booth in her dorm room. I was like, 'That would be me!'
I stored the booth in South Bend every summer and set it up under my loft each year. My roommates used it in their room and took good care of it the year that I studied in Ireland. My brothers, who were both students at ND, were not thrilled when I ended up living in the Le Mans annex my senior year. They had to haul the heavy pieces up and down the last flight of stairs, since the elevator did not go up all the way up to the annex.
The booth is still holding up. It only required one repair job when the top of the table broke off of the base. It gets much use in its current position in our basement. Our kids and their friends eat down there often. It looks a little lost without the loft bed to frame it. I don't plan to let any of the kids borrow it for their college dorm rooms, but if anyone decides to attend SMC I know that it would be a great addition to a room — but not the annex.
---
Kelly Kilmer-Mullagh — Class of 1996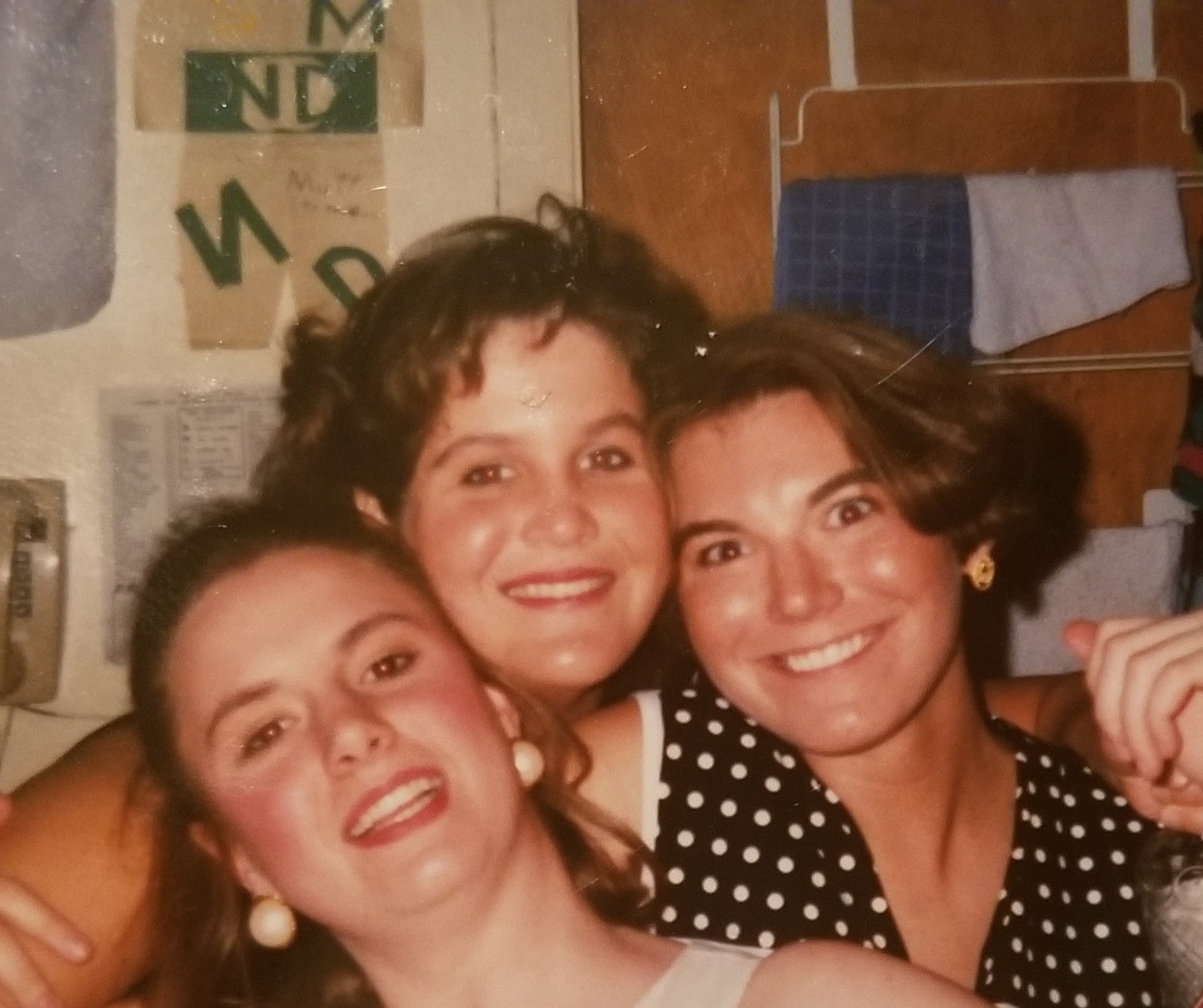 Most memorable by far was freshman year in Queens Court. Little did I know I would be meeting some of my closest friends to this day in that tiny hallway. On our freshman move in day, I met my roommate and our neighbor across the hall came over to borrow something out of my tool box. My roommate has been my best friend for 27+ years and my neighbor across the hall is one of my closest friends. They are truly two of the best things that happened to me at Saint Mary's. In the attached picture, from left to right, Megan Bruchas Brunson, Kristen Ross O'Connor, and myself, Kelly Kilmer-Mullagh.
---
Sara Levandusky Reinthaler — Class of 1999
I lived in second annex freshman year which was mostly freshman and will always remember just hanging out in the hallways at night. No one ever locked their doors — we were like one big family. Oh if those hallway walls could talk!
---
Vanessa Bejec Silverio — Class of 2005
I don't remember traditions, but I do remember our S.Y.R in Regina Hall. It was fun getting all dressed up together and doing each other's hair and makeup. I also enjoyed going to Sunday night mass with my roommates and Carroll guys from ND.
---
Kelly Thetard Graft — Class of 2007
I lived in second annex which is full of freshman and mostly triples and quads so it is A LOT of girls in one space, so traditions were just always having a someone to talk to and create havoc with! I knew I wanted to live in Le Mans from the first time I ever visited campus. We chose to live in the same room both years of living on campus because 295 was just a piece of our hearts, (not to mention it had a fifth built-in closet which was a nice bonus!) My most memorable moment though, was honestly not as a student but after graduating and choosing to get married there. My now husband knew how much Holy Spirit Chapel meant to me and it felt like I was getting married at home.
---
Maggie Oldham Adams — Class of 2007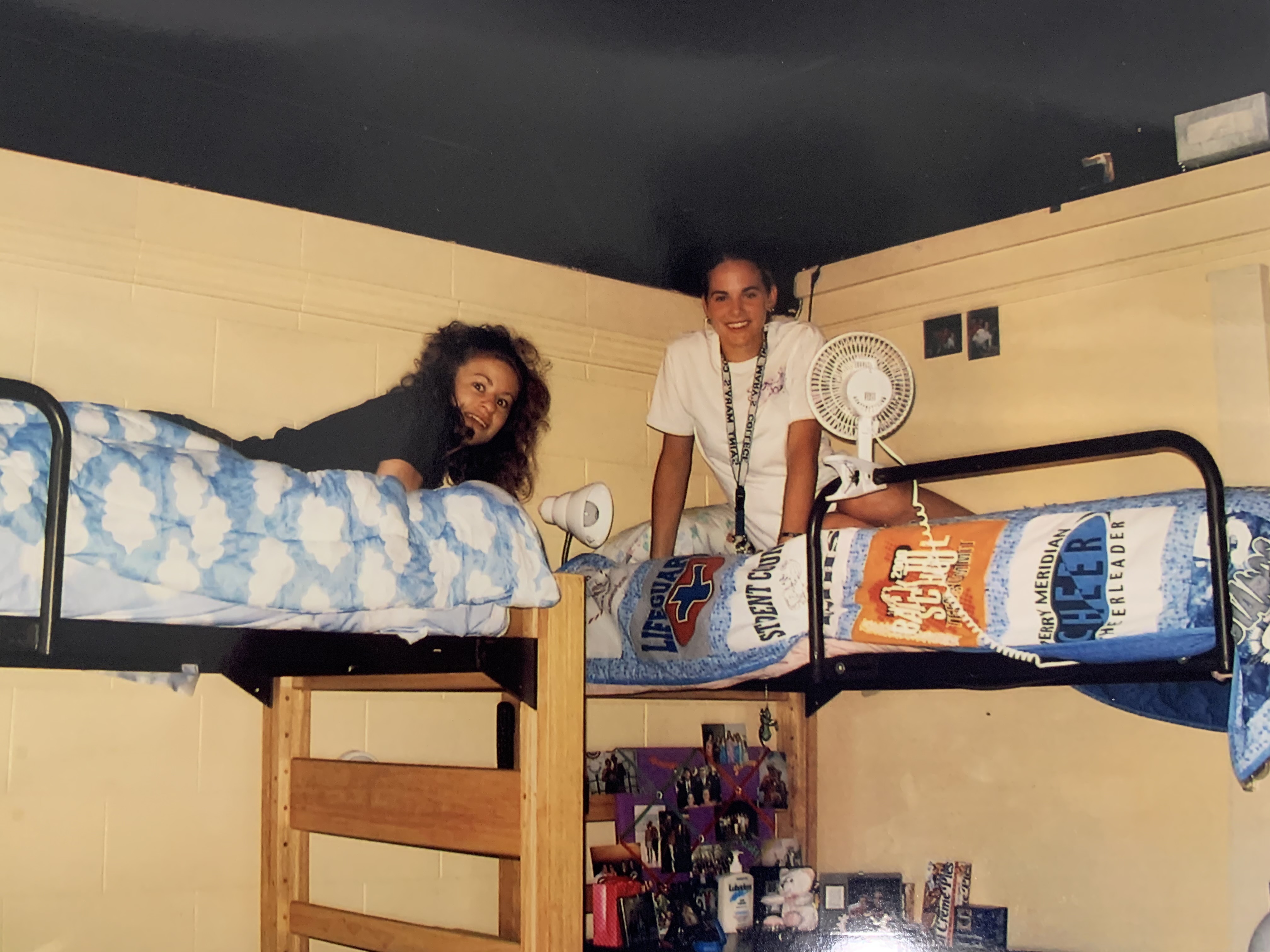 This is a photo of me and Dana Christiano Dearth the day we moved in to Queen's Court in Le Mans in August of 2003! It was 97 degrees that day. Our dads assembled the lofts so we could raise our beds. The ceilings were so high in Queen's Court that we could stand underneath our beds and on top of our beds and never hit our heads! Our favorite memory was laying on our beds flipping through the "Freshman Register" (aka "The Dog Book"!) and the occasional prank call from the dorm wall phone. We had never met before (we were randomly assigned) and we ended up rooming together all four years of college (three years in Le Mans!) and we were each other's maid of honor in our weddings.
---
Molly Gahagan — Class of 2011
Way too many to pick only one! Overall my greatest memory was making lifelong memories and friendships with women who at first were only roommates and quickly became my sisters!
---
Nicole O'Toole — Class of 2015
Campus seemed smaller than I remembered it when I moved into snow-covered Le Mans in January 2013 after studying abroad in Rome the semester before. I didn't think my college career could get any better than touring the Pantheon and reviewing Italian pronouns over cappuccino. When I moved into the second floor annex of Le Mans with my freshmen year friends, and down the hall from my new study abroad friends, we quickly became a family. There is nothing quite like living down the hall from dozens of girlfriends. Whether I ran into a room to borrow a cute top or ask about the statistics assignment, Le Mans Hall quickly became its own sisterhood. We traveled in packs to make spaghettios in the Le Mans basement, gather in the first floor study lounge to cram for final exams, and dawdle down the hall in our slippers for Sunday night mass.
---
Lauren Zyber — Class of 2017
It is truly hard to pinpoint THE most memorable moment in the dorms. It was such a formative part of my life at Saint Mary's and the person I am today. A moment that stands out to me though, is my second night in the dorms my first year at SMC. I was in a double in McCandless, and my roommate and I went in blind. Allie was a music education major from Minnesota. She sang alto in the choir, enjoyed playing volleyball. I was an English major but had sung in choir my whole life, also an alto, and also a (recreational) volleyball player. When we met the first day, we got along well, but we were still a little shy around each other. The second night, we didn't have a ton to do, and we weren't into partying, so Allie and I hung out in our room, decorating, listening to show tunes, and showing each other videos of our choirs from high school. We left our door open in case anyone wanted to stop by and say hi, but eventually our RA came around and informed us that it was now quiet hours and we were being loud. We stayed up that night until 3 a.m., talking, sharing music, laughing.
The next day I remember talking to my mom on the phone and she asked how my roommate was, and I said, "Well, we stayed up until 3 a.m. talking about choir and singing, so I think we'll get along great!" Six and half years later, she's still one of my best friends. We've sang together, cried together, laughed together, lived together (senior year, too), and I always feel indebted to the roommate gods for putting us both in 302 McCandless Hall and introducing me to a such a kindred spirit and an amazing person I am blessed to call my friend. At the end of the year, we left notes in our empty dressers for the next students that would live in that important room for us. I don't know if they ever received them. But when I look back at my time there, I remember hanging out in that room, watching movies there during the polar vortex, playing guitar and singing with my friends, and getting to know strangers that would become friends that would become sisters. It was just one year, but a lot of that started in that room. And I remember crying on our last day of freshman year, when our room was empty and we had to say goodbye. At first, looking back on that, it's silly to think how upset I was to leave for the summer. I had three years left at Saint Mary's, and so many wonderful things to look forward to in those three years. But it prepared me for even harder goodbyes that would come in later years, and I think I always knew that that room, that that moment in time, was something special — something I would never forget.
---
Leslie Nedvidek — Class of 2018
My most memorable moment was when living with my roommate of four years, Colleen Allare, our friend Sydney Enlow needed a place to stay because her roommate (another close friend of ours, Mary Grace Heller) was sick. Sydney slept, I'm sure very comfortably, on our rug and makeshift bed for a few nights. Room 513 went from a double to a triple for that sacred time! Sleepovers never die!
---
Stephanie Johnson — Class of 2019
Endless nights in different friends' rooms talking about our dreams and dramas, stressing about school, watching movies, ordering pizza, and enjoying the company of our fellow smick sisters.
---
Breda Moran — Class of 2019
In Le Mans my favorite daily tradition was walking into Reinbeaux lounge and just spotting my friends hard at work. Whether it was midday or late at night, everyone would be filling the tables either working on projects, speed writing papers, or pulling all-nighters with three empty cans of Monster and Cheeto crumbs covering the table. It was the collective spot just to gather and most times distract your friends and classmates. Although not seen as a Le Mans tradition, I loved the community atmosphere in Reinbeaux at all times of the day.