Field Education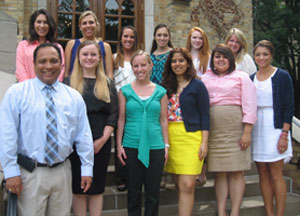 Field Practicum Students
Class of 2014

Field Education is the integrative component of the Saint Mary's Social Work Program curriculum. This baccalaureate Social Work Program mentors women into career trajectories for leadership in a variety of fields. Many of our students pursue graduate degrees. Careers in social work provide opportunities to improve the well-being of individuals, families, and society. Saint Mary's graduates are pursuing careers in many areas:
Administrative positions in federal and state agencies and non-profit organizations
Clinical social work positions in mental health (Individual, Marriage, and Family Therapy)
International, national, and local efforts to address issues of poverty and injustice (Policy analysis and advocacy)
School social work
Careers in child welfare, gerontology, health care, public welfare, and forensic social work
Research and social work education (There is a critical shortage of faculty with a Ph.D. in Social Work)
Field education involves a supervised internship in the student's senior year. This experience offers a way for students to learn more about their professional interests as they plan their careers. Both regional and national field placements are available.
Regional Field Placements and Instructors
Regional field placements are done over the course of two semesters in the senior year. In these placements, students are in the field two days per week (usually Tuesday and Thursday). Students earn 6 credit hours each semester. A two credit hour Practicum Seminar is taken concurrently with these placements.
Samantha Carey
River Bend Cancer Services
Stacey Garton, MSW

Maria Courtney
Youth Service Bureau
Shotunus Peterson, LCSW

Emma Derheimer
Kids Peace St. Joseph County Office
Emily Magagula

Galicia Guerrero
Riley High School
Mary Dunn, MSW

Corinna Martinez
St. Joseph Probate Court Juvenile Division
Jennifer Martin, MSW

Jade Pressler
YWCA
Karen Shivers, MSW

Kerry Puckett
REAL Services
Guardianship Program
Mary Carroll, MSW

Kathleen Pummill
Adult Rehabilitation Center
The Salvation Army
Thomas Hoff, MSW

Gabrielle Sanchez
Oaklawn: The Children's Campus
Sarah Ridley, BSW

Natalie Stoerger
IVY Tech
Joann Phillips, MSW
Adrian Six

Mallory Welsh
Hannah's House
Kristi Kubicki, MSW
Sheila Holody

 
National Field Placements Field Practicum Students
National field placements require a 3.2 grade point average. They are taken in the senior year using a modified block placement format. During the Fall Semester, students are involved in the field for two clock hours per week. In the Spring Semester, students are in the field 4-5 days per week. Students earn 2 credit hours for the Fall Semester and 10 credit hours for the Spring Semester. A two credit hour Practicum Seminar is taken concurrently with these placements.
Gerontology Curriculum Module
A gerontology curriculum module has been integrated into the Practicum Seminar during the Fall Semester. Learning objectives include familiarizing students with the continuum of health and social services for elders. Students visit the area agency on aging to learn about health and social services provided by public funding, a wellness center for elders operated by a health system, and a long-term care facility. In addition, a practitioner from the Alzheimer's Association provides a lecture on working with persons with memory and cognitive impairments, and a social worker who is employed by a women's religious community provides a lecture on medical and social models of elder care.
Field Education Gerontology Consortium

 

The Field Education Gerontology Consortium is an academic/community partnership model that has been developed to enhance the gerontology-competencies of baccalaureate social work majors, to bring affordable continuing education to practitioners in the aging services network, and to facilitate inter-professional understanding and collaboration in geriatric settings. Representatives from the participating organizations meet once each semester to plan the class sessions for the gerontology curriculum module and the continuing education programs.

Participating Organizations

Saint Mary's College
Alzheimer's Association, Northern Indiana Chapter
Area 2 Agency on Aging (REAL Services, INC.)
Holy Cross Care and Rehabilitation Center
Memorial Leighton Center for Senior Health
Sisters of the Holy Cross (Kathy Decker-Burrous, M.S.W.)
Continuing Education for Practitioners in the Aging Services Network
Practitioners from the participating organizations are invited to Saint Mary's College for distance learning programs provided through the American Society on Aging and other professional organizations. These programs are offered in the Fall and Spring semesters. Students are encouraged to attend these programs.