Elizabeth's Exploration
By Emily Doyle '18
Elizabeth Quaye '17 graduated in May with a major in global studies and a thirst to keep traveling. She studied abroad in Morocco during her junior year and would have taken advantage of any opportunity to explore another part of the world.
That opportunity came when Alice Yang, associate director of international education at the Center for Women's Intercultural Leadership, suggested she apply for the 2017 China Summer Program. An alumna who was also participating in the program, Diane McGarry '70, wanted to sponsor a student who would not have had the opportunity to participate in the program without financial support. Elizabeth had taken Intro to Mandarin for a semester out of pure curiosity of the language and culture, and participated in different events held on campus celebrating Chinese culture. She became friends with many students who came to Saint Mary's from China and was always open to exploring and learning more about the culture. When Alice mentioned the program to her, she knew she had to apply.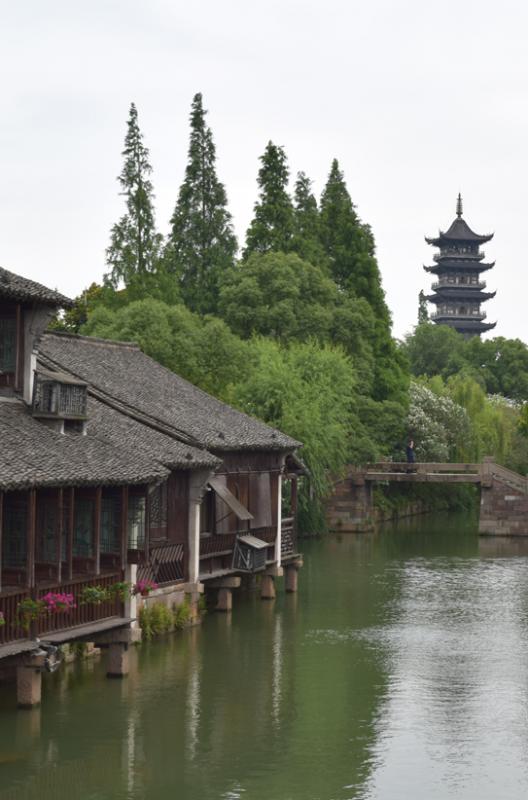 After submitting her application and was waiting to hear if she was the recipient of the grant, Elizabeth realized how much she hoped and wanted to be chosen for the program. Elizabeth was checking emails while studying one night and saw a new email at the top of her inbox informing her she received the grant! She was so excited for the opportunity to explore somewhere else and appreciative of Diane's generosity because without it she would not have been able to attend. As the departure date was approaching she became even more excited and a little nervous, as she had only taken one class in Mandarin and this would be a new place with new people. However, once she met the other Saint Mary's women who were part of the program, all nerves were replaced with total excitement to explore.
Once she got to China, Elizabeth was excited to immerse herself in the culture she enjoyed learning so much about. Her knowledge of the history, food, and people grew as she traveled through Wuzhen, China's "Water City," Inner Mongolia, the Great Wall, the Forbidden City, and listened to lectures about different events which have shaped China.
The Saint Mary's women on this trip had also been corresponding with women in China prior to their arrival and were able to meet them at a  lecture. Elizabeth's pen pal was the third child in her family, and a violation of China's  One Child Policy. Enacted in the late 1970s to address overpopulation concerns, China's government made it illegal for any family to have more than one child up until 2015.  Her pen pal explained how she had to hide in a cave when she was growing up and that her mother abandoned her a few times when she was younger to avoid paying substantial fines. Hearing a first hand account of living as a forbidden child under this policy was eye opening and interesting, an exploration of a more difficult side of Chinese culture.
Elizabeth's experience in China opened her eyes to the beautiful and challenging aspects of the culture. This trip quenched her thirst for travel for a little while, but she cannot wait to continue exploring.