Empowering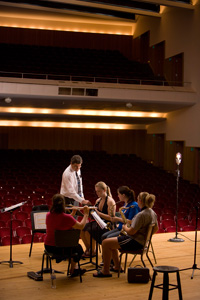 You may know exactly what you want from life. You may feel ready to explore possibilities. Both are great starting points at Saint Mary's College. We're interested in who you are, what you can do, and who you will become.
We are committed to building your confidence as you gain knowledge and insight. Our excellent academic programs and positive learning environment prepare you to become a bold, intellectually sophisticated woman. As you achieve and succeed in Saint Mary's classes and through opportunities beyond the classroom, you'll become empowered to have a meaningful impact on the world.
Gain Experience
In addition to excellent classroom teaching, Saint Mary's provides a range of learning experiences. Our extensive study abroad programs place about 200 Saint Mary's students in foreign study programs each year. You might collaborate with a professor through a Student Independent Study and Research Grant, conducting graduate level research and presenting your findings to the academic community at Saint Mary's. You'll have great opportunities for internships with Fortune 500 companies by connecting with alumnae through the Saint Mary's College Alumnae Resource Network.
Enjoy Support
Saint Mary's tradition of mentoring begins with administrators and faculty and extends to students themselves. You'll discover great leadership opportunities in our many student organizations and feel spiritually supported through our strong campus ministry programs, offerings at The Center for Spirituality, and celebration of liturgy.