A Force for Feminism
A Force for Feminism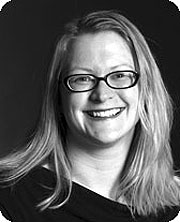 Professor Astrid Henry confesses that if she were to live by a mantra, the 1990 Madonna song, "Express Yourself," would be hers. She admits this with mock shame, but then adopts a more serious tone.
"It's really important to speak your mind, say what you believe, and take risks," says Henry, coordinator of the Saint Mary's Program in Gender and Women's Studies . "I grew up in the 70s and my parents were both very influenced by the women's movement and ideas of equality were part of our daily life. I was raised with a very strong belief in myself and the idea that it's OK to be a strong, intelligent woman."
Henry passes those ideas along in the classroom, teaching introductory classes for students new to the field of feminist studies. Her advanced seminars probe topics like white privilege and sexuality. She's expressed herself as a researcher, publishing a book called Not My Mother's Sister: Generational Conflict and Third Wave Feminism, which examines younger women's relationship to feminism. Her essay on Sex and the City , part of an anthology devoted to the HBO series, is widely taught at universities and colleges around the country.

She is also a mentor, serving as the faculty coordinator for the Gender and Women's Studies in Europe program and the advisor for Feminists United, a group that provides opportunities for students to engage with women's issues on campus and in the world.
With a Ph.D. in English, Henry was the first faculty member hired specifically to teach in gender and women's studies at Saint Mary's. Enrollment in the gender women's studies minor, which sent its first graduate into the world in 1987, has quadrupled in recent years. The program just hired its second faculty member, historian Amanda Littauer.
Henry says her colleagues at larger institutions are amazed at the number and variety of courses offered in gender women's studies at the College. Next semester, for example, choices range from "Western Women Traveling in India" to a course on "Cyberfeminism, Creativity, and Connectivity," to "Gender and Race Issues in Management."
Professors teaching the courses bring expertise from many disciplines—art, anthropology, economics, history, English, political science—which draws students of diverse interests and backgrounds. "The energy is really great; the student interest in the subject is really growing," says Henry. "I feel proud of the role I've played in that."