A Pilgrimage to Mexico
A Pilgrimage to Mexico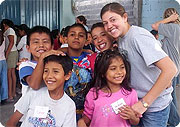 Senior Beth Sands went to practice her Spanish—but she found herself doing a lot more listening than talking. Junior Courtney Kennedy hoped it would be "a faith-filled experience," and in the work of three Sisters of the Holy Cross she saw faith in action.
Sands and Kennedy spent fall break in Guadalupe, Mexico, outside Monterrey, along with six other students and Saint Mary's staff members. The weeklong trip was billed as a pilgrimage—a journey to a holy place. It was also a chance to learn firsthand about the daily struggles of ordinary Mexicans.
Before departure, the students read about Mexican culture and history and kept spiritual journals. They met weekly with staff from Campus Ministry, Multicultural Affairs, and the Office for Civic and Social Engagement, who received funding from the Center for Women's InterCultural Leadership for the trip.

The students knew they'd be staying in a poor urban area where the Sisters of the Holy Cross (who founded and sponsor Saint Mary's) live, worship, and minister. As pilgrims, their goal was to immerse themselves in the lives of the local people.
Even so, "nothing we did in the meetings could have prepared us for what it was," Kennedy says. "I think all of us expected to see poverty … but it's just so different when it's in front of you."
While struck by the contrast between rich and poor, Kennedy was inspired by the Sisters' impact—and the love and respect they've earned—in the community. Sister Michelle Toepp, CSC, has created kids' clubs that provide tutoring, nutrition classes, and food to families in two parishes. Sisters Joan Mader and Pat Clossey minister to the elderly and sick.
The students spent time reading and playing with children at the kids' clubs and learning about their lives. Sands, a Spanish major (pictured), could communicate with them directly. Kennedy, who studies business and Italian, made connections in other ways. But both say the experience changed their perspectives. "The power of one is what we saw through her," says Kennedy of Sister Michelle. Adds Sands, "It made me want to do service [in the U.S.] even more, because I can see how important it is to educate people, provide for their needs, and still view them as people—not as a burden on society or the economy."