Lauren Faso
Student Profiles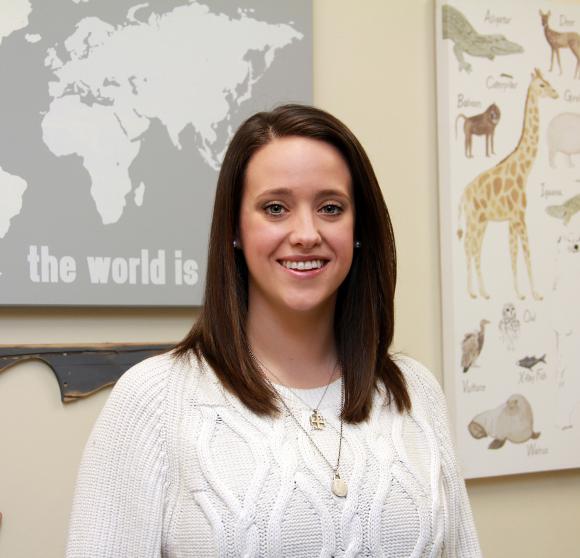 Lauren Faso
Major(s):
Communicative Sciences and Disorders
"I CALL THIS PLACE HOME NOW. WHEN I'M TALKING ABOUT HOME, I MEAN SAINT MARY'S."
Since preschool Lauren Faso has attended Catholic schools. Reflecting on her education, she made the decision to continue the tradition at Saint Mary's and embrace the opportunities on a small campus.
"I knew that I thrived in a Catholic environment and wanted that personal connection with my professors."
Traveling to embrace her heritage
Lauren studied abroad in Rome the fall of her sophomore year. Being 100 percent Italian, she felt right at home and never wanted to leave the Eternal City. An intended nursing major, Lauren knew she had to come back to campus to stay on track.
Fast-forward to her senior year, Lauren says, "I call this place home now. When I'm talking about home, I mean Saint Mary's."
Embracing a different dream
In the spring of her sophomore year, Lauren did some soul searching about her major. She consulted with a friend who was studying communicative sciences and disorders.
"She encouraged me to look into the department because she knew I had a love of working with kids and experience working with those with disabilities."
Lauren emailed chair of the department Susan Latham '91, who welcomed her into the department wholeheartedly.
"Susan was so supportive. We talked for two and a half hours about the shift in majors and course scheduling."
Lauren is especially grateful for the support she received from professors — one of the reasons she chose Saint Mary's.
"The entire department is so supportive and make you feel like you can be yourself. Susan is absolutely someone I look to for inspiration."
Discovering herself in the clinic
Becoming a speech language pathologist is not something Lauren imagined for herself, but she discovered her passion through hours in the clinic and coursework.
Lauren believes that her experience in the Judd Leighton Speech Clinic will benefit her as she's applying to graduate schools. On her list is the Saint Mary's master's program in speech language pathology.
"Having the opportunity to observe speech therapy right on campus is unique. Having the clinic here really puts into perspective what it would be like to be a speech pathologist."