A Sense of Community
A Sense of Community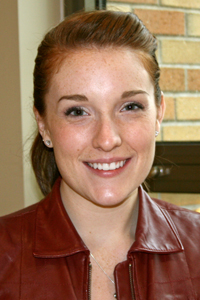 "I've made friends with some of the brightest and most talented women I have ever known," says recent graduate Janelle Wise '09. "I found a new family here at Saint Mary's College." Janelle's comments reflect the sentiments of many Saint Mary's students and alumnae who find the College community to be exactly what they were looking for. "I chose Saint Mary's because I wanted a small college that would allow me to pursue an art degree while being part of a close-knit community," says Janelle.
Janelle says she felt comfortable at Saint Mary's, noting that Regina Wilson in Campus Ministry was a great help during her time here. "I'm not Catholic, but she went out of her way to make me feel accepted," says Janelle.
While at Saint Mary's Janelle was in the art club, and she was the Student Academic Council (SAC) representative for the art department. She says that her favorite class was art history. "I've never had a more impressive and interesting professor than Dr. Marcia Rickard," says Janelle.
Janelle also studied abroad in Rome, saying that the experience opened the door to the world for her. "I learned a lot about myself and gained a great deal of confidence from it."