Campus Ministry
Welcome to your spiritual home at Saint Mary's!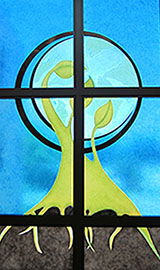 Campus Ministry, a department of the Division for Mission, fosters the call to community where freedom and fullness of life are celebrated through word, sacrament, service and action for justice. Campus Ministry invites members of the community to deepen faith by responding to the demands of the gospel.
Through many outreach programs and events, such as bible studies, peer ministry, retreats, small faith groups and Christian Initiation, Campus Ministry seeks to fulfill and advance the Mission of Saint Mary's College, to promote a life of religious sensibility and responsibility.
Throughout your time at Saint Mary's, the Campus Ministry staff and peer ministers are available to share your journey of faith to know God more fully in everyday life, to help connect you to members of the Saint Mary's College community and to celebrate with you the ways in which we will grow together as a community of believers.
For information about upcoming Campus Ministry opportunities, please visit the Calendar of Religious Events.