Adventure in Ecuador
Adventure in Ecuador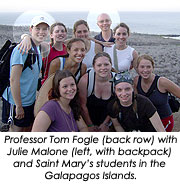 This summer, the environments of Ecuador came alive for nine adventurous Saint Mary's students.
In the Galapagos Islands, they sidled up to sea lions on the beach. In an Andean cloud forest, they laughed as colorful hummingbirds zoomed past. In the capital city of Quito, they toured 16 th -century churches and learned about 21 st -century urban challenges. And they spent five days deep in the rainforest, exploring its human and natural landscape.
Biology professor Tom Fogle planned and led the two-week trip, which is offered as a three-credit course every other year. While open to Saint Mary's students in all majors, the Ecuador/Galapagos Summer Study Program tends to attract those who love nature and the outdoors.

This year's trip drew biology and nursing students, but Fogle says, "I'm interested in them having an experience that's broader than just biology. I really want them to have a chance to interact with the culture, to learn about the history of the region, to meet local people, to be able to see a variety of different locations within Ecuador."
One of smallest countries in South America, Ecuador is home to incredible biodiversity. Senior Julie Malone had never seen a mountain, been on an island, or left the United States before the trip. Making up for lost time, she held a giant rhinoceros beetle in her hand, ate ants that tasted like lemon drops, and went on a midnight hike to look for tarantulas in the rain forest.
"We also saw a plate-billed mountain toucan, which is really rare. Dr. Fogle almost jumped out of his socks; he was so excited," she laughs.
"He is the best professor. He was always relating everything we did on the trip back to learning—and not just scientific learning, but life learning," Malone says. "He values his students not only from an educational but a personal standpoint."
Both say the best moments of the trip came in the evening. Students would begin talking about what they'd seen that day, and ended up sharing their thoughts on a range of topics, often well into the night. "The students are lively and engaging and they really teach you a lot about life," Fogle says. "That's what's fun—you get a chance to mentor them, and in turn they tell you their stories, their hopes, and their dreams. That makes it very rewarding."